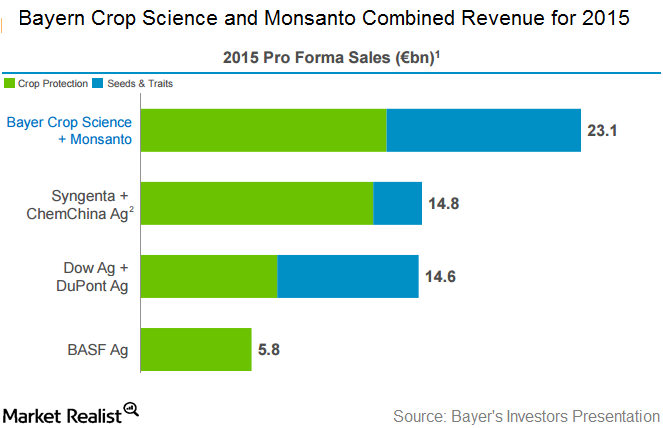 Bayer Pays $128 per Share to Seal the Deal with Monsanto
By Peter Neil

Sep. 19 2016, Published 1:45 p.m. ET
Bayer buys Monsanto for $66 billion
After making three revisions to the deal, Bayer finally acquired Monsanto (MON) for $128 per share in an all-cash transaction, subject to regulatory approval. This implies an ~20% premium over its closing price of September 14, the day the merger deal was signed.
It also implies a 44% premium on Monsanto's closing price on May 9, the day before Bayer made its first offer to acquire Monsanto.
The transaction, which is valued at $66 billion, is expected to create synergies of ~$1.5 billion after three years. Monsanto–Bayer is expected to be an agribusiness leader, with a combined revenue of 23.1 billion euros. Bayer's pro forma sales figures for 2015 reflected this combined revenue figure.
In the agribusiness sector, the combined sales of ChemChina and Syngenta (SYT) follow, with sales of 14.8 billion euros. The merger of DuPont (DD) and Dow Chemicals (DOW) would have pro forma sales of 14.6 billion euros.
Article continues below advertisement
How Bayer intends to finance the deal
As noted in its press release, Bayer intends to finance the deal with a combination of debt and equity. Bayer plans to raise $19 billion through an issuance of mandatory convertible bonds and through a rights issue. Bayer intends to raise $57 billion via bridge financing from Bank of America Merrill Lynch, Credit Suisse, Goldman Sachs, HSBC, and J.P. Morgan.
Monsanto (MON) will seek shareholder approval at the end of 2016 or at the beginning of 2017. Bayer expects the merger to be completed by the end of 2017. Bayer will be required to pay an antitrust break fee of $2 billion if the merger fails.
Monsanto's stock price
On September 16, 2016, Monsanto (MON) closed at $103.45 and fell 3.1% from the previous week's closing price. On a year-to-date basis, Monsanto has risen 5%.
Investors can acquire broad-based exposure to Monsanto via the Vanguard Dividend Appreciation ETF (VIG), which held 0.9% of its portfolio in Monsanto on September 16, 2016.