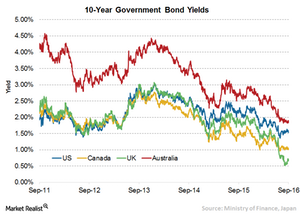 Why Bargain Hunting in Continental Europe Yields No Results
By Matt Tucker, CFA

Sep. 12 2016, Updated 10:05 a.m. ET
No good bargains in continental Europe
Given the disparity, how should a U.S. investor think about the European bond market? I'd suggest we group the United Kingdom together with the United States, Australia and Canada, developed markets that have offered some yield in a world where yield is disappearing. But continental Europe is a much tougher challenge. You have had either negative yields on highly rated bonds from countries like Germany, or low yields from lower quality issuers like Italy and Portugal. Italy is a BBB issuer, meaning its bonds are among the lowest rated investment grade bonds out there, and yet they pay a lower yield than U.S. Treasuries. Taken together, it is hard to see much value for U.S. investors in continental European bonds at current levels.
Article continues below advertisement
Market Realist – Hard to see value in continental European bonds
Given the negative yields in continental Europe, it might be wise to combine developed markets (EFA) (IEFA) with good economic fundamentals that provide higher yields into one group. Countries such as the United States (AGG) (IEF), the United Kingdom, Canada, and Australia (IAF) have healthy economic fundamentals compared to most of the other developed markets. The ten-year government bond yields in these countries are also higher at 1.5%, 0.7%, 1.0%, and 1.9%, respectively.
Higher yield, higher rating
Although countries such as Spain and Italy have competitive yields on their ten-year government bonds, their credit rating is far lower than the four prominent developed markets discussed above. Standard & Poor's credit rating for Italy stands at BBB-. Its rating for Spain is BBB+. In contrast, the United Kingdom, Australia, Canada, and the United States have some of the highest credit ratings at AA, AAA, AAA, and AA+, respectively.
Corporate bond markets
It's very hard to find bargains in continental Europe since the yields on bonds from highly rated corporates have also fallen to their lowest points and even negative in some cases. According to the Bank of America Merrill Lynch indexes, the average euro-denominated corporate bond yield plunged to a record low of 0.61% in August. With this, investment-grade bonds worth more than 4 trillion euros have yields below 0.0%. The German state-owned railway company, Deutsche Bahn, sold negative-yielding bonds worth 350 million euros in July that yielded -0.006%. Henkel is selling two-year bonds worth 500 million euros with a yield of -0.05%.
So yield-starved investors looking for opportunities in continental Europe have two choices:
They can go for high-quality bonds but be ready to accept a very low yield.
They can invest in low-rated bonds with higher returns, although they are still lower than major developed markets.
Either way, both options aren't very appealing.