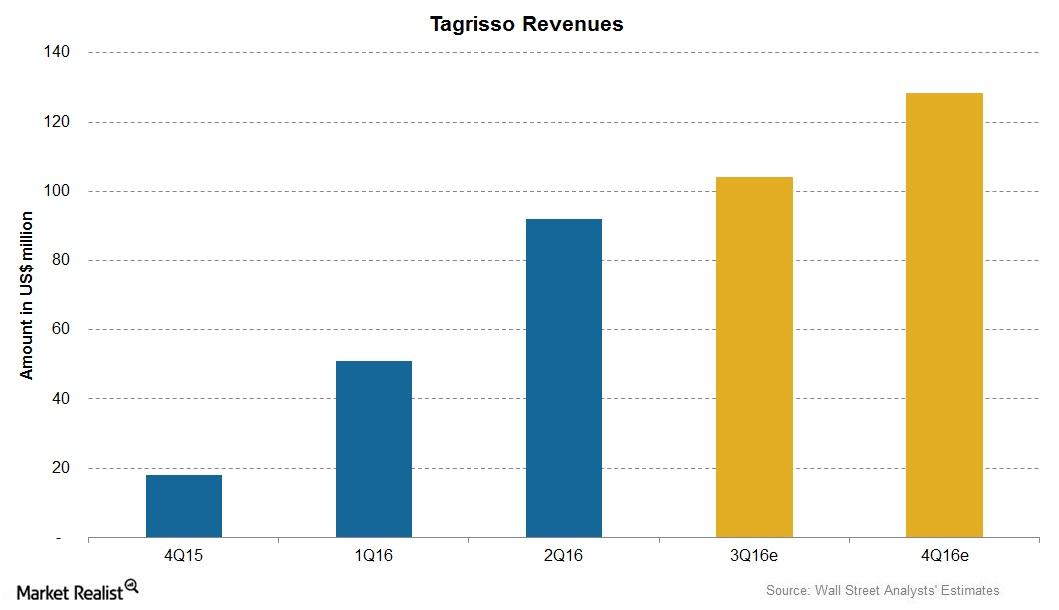 AstraZeneca Is Taking Steps to Improve Its Position in Oncology
Oncology segment
AstraZeneca (AZN) is also focused on the oncology segment. During the last quarter, the oncology segment's contribution to the company increased to over 15%. AZN's key products for oncology are Zoladex, Faslodex, Iressa, and the new drug Tagrisso.
To strengthen its oncology portfolio, AstraZeneca acquired Definiens in November 2014. The chart below shows the revenues and expected revenues for Tagrisso.
Article continues below advertisement
Tagrisso
Tagrisso, a new drug for the treatment of metastatic non-small cell lung cancer (or NSCLC), was approved during 4Q15. Tagrisso was launched in the US markets in November 2015 and reported revenues of $92 million in 2Q16. Other drugs for the treatment of NSCLC include Bristol-Myers Squibb's (BMY) Opdivo, and Merck's (MRK) Keytruda.
Tagrisso, also known as AZD9291, is an 80mg once-daily tablet indicated for the treatment of patients with metastatic EGFR T790M mutation-positive non-small-cell lung cancer. FDA-approved tests have detected Tagrisso as the first medicine for patients who have progressed on or after EGFR TKI therapy.
AstraZeneca's other oncology products
Iressa is a drug used for the treatment of lung cancer.
Zoladex is a drug used for the treatment of prostate cancer in men, as well as breast cancer or endometriosis in women. Zoladex competes with Enantone from Takeda Pharmaceuticals (TYO), as well as Decapeptyl from Ipsen (IPN).
Faslodex is used for the treatment of postmenopausal women with advanced or metastatic breast cancer, as well as for patients who have been treated with endocrine therapy. Faslodex competes with drugs like Xeloda from Genentech, a Roche company (RHHBY), and Femara from Novartis (NVS).
Lynparza is a drug used for the treatment of ovarian cancer. In January 2016, Lynparza was granted breakthrough therapy designation by the FDA for the treatment of prostate cancer.
Investors can consider ETFs like the iShares S&P Global Healthcare ETF (IXJ), which holds ~4.2% of its total assets in Roche Holdings.