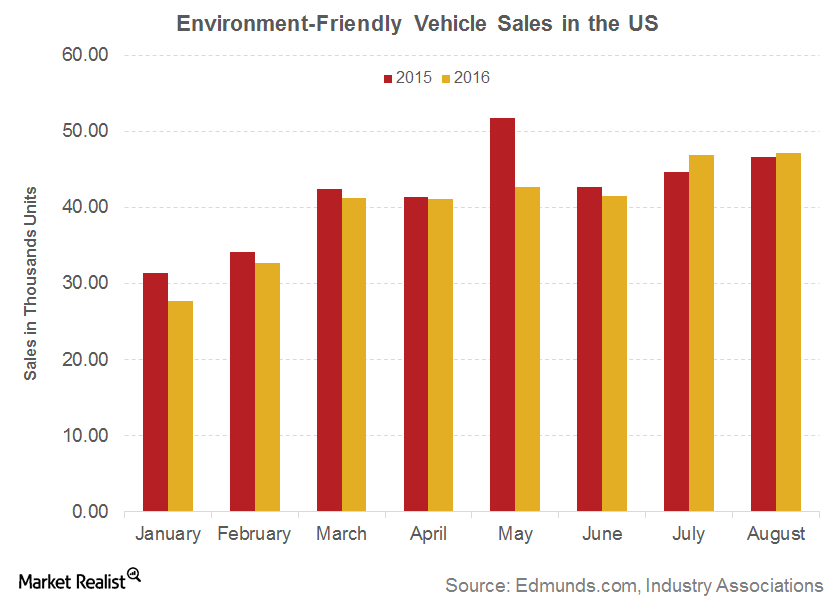 Are Green Vehicles Going Over with US Buyers?
By Jitendra Parashar

Dec. 4 2020, Updated 10:53 a.m. ET
Environmentally friendly vehicles
With the dynamics of the auto (automobile) industry (IYK) changing at a fast pace, consumers are becoming more cautious when purchasing vehicles. Authorities around the world are making related laws and regulations more stringent to eventually phase out vehicles with high carbon emissions. To maintain the pace with the changes, automakers are trying to produce environmentally friendly vehicles with high fuel efficiencies.
Let's take a look at how these environmentally friendly vehicles are gradually making their way into the US auto market.
Article continues below advertisement
Sales rose in August
In August 2016, sales of combined environmentally friendly vehicles were 47,133, a 1% YoY (year-over-year) rise from 46,643 a year ago. These vehicles include hybrids, plug-in hybrids, and battery electric vehicles.
It's worth noting that sales of these environmentally friendly vehicles are still a small fraction of the total US auto sales. According to data compiled by Edmunds.com, total auto sales in the United States in August 2016 stood at ~1.5 million units, which was about 4% lower than 1.6 million units in August 2015. In July 2016, auto sales stood at 1.5 million in the United States.
Despite a 4% YoY fall in total vehicle sales in August 2016, a 1% YoY positive rise in the sales of environmentally friendly vehicles reflects the change in consumer choices.
Series overview
In this series, we'll look at August 2016 sales for hybrids, plug-in hybrids, and battery electric vehicles in the United States. We'll see why battery electric vehicles are gradually gaining strength. We'll also explore why automakers, including General Motors (GM), Ford (F), Toyota Motor (TM), and Honda Motor (HMC), have increased their focuses on producing electric vehicles in the coming years. Toward the end of the series, we'll take a look at US vehicle lease penetration data.