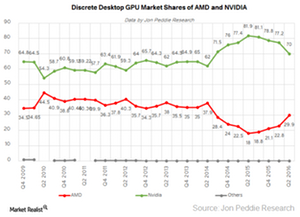 Why Would Apple Switch from AMD to NVIDIA?
By Puja Tayal

Updated
Discrete GPUs in Apple's Macs 
In the previous part of the series, we discussed a Bloomberg report that stated that NVIDIA (NVDA) is hiring engineers for Apple's (AAPL) new products, which would indicate a comeback for the chipmaker. Apple has never focused on high-end graphics because they require more power and consume larger space, which is not in sync with the company's strategy of thinner machines with longer battery life.
Most Macs feature Intel's (INTC) integrated GPUs (graphics processing units) and offer high-performance graphics card as extras. Apple uses discrete GPUs only in some high-end MacBook Pros, iMac products, and all Mac Pro SKUs (stock keeping units).
Article continues below advertisement
Virtual reality creates need for discrete GPUs
With the emergence of VR (virtual reality), computers need to handle workloads such as 3D graphics editing, VR, and AI (artificial intelligence), which require high-end graphics processing. Intel's integrated GPU does not meet the requirement.
Intel launched its seventh-generation Kaby Lake processor, which supports 4k video, but the processor is not yet available for PCs and notebooks. Advanced Micro Devices (AMD) and NVIDIA's GPUs are best suited for VR and AI and are believed to perform better than Kaby Lake.
Why would Apple switch from AMD to NVIDIA?
AMD is Apple's sole discrete GPU supplier and offers VR ready GPUs. So why would Apple consider switching to NVIDIA?
A Mac Pro refresh has been pending for a long time. One possibility is that AMD promised to launch Polaris GPUs for notebook, and a delay in the launch delayed Mac Pro's refresh. When the Polaris RX 480, 470 and 460 GPUs were launched they faced power issues, leaving Apple with no Polaris GPUs for Mac.
However, WCCF Tech reported that AMD is rumored to be supplying its Polaris 10 and 11 GPUs for Apple's 2016 Macs and iMacs.
Apple's strategy to diversify suppliers
Apple has, in fact, adopted a strategy to diversify its suppliers. Recently, there were rumors that Apple purchased baseband modem for its iPhone 7 from Qualcomm (QCOM) and Intel, instead of relying solely on Qualcomm.
There's also a possibility that Apple opted for more than one supplier for discrete GPUs and chose NVIDIA, a dominant player in the discrete GPU market. This move would not be the first time Apple has switched graphics suppliers:
In 2012, Apple switched from AMD to NVIDIA for its first 15-inch MacBook Pro with high-resolution Retina displays.
In 2013, Apple switched back to AMD and used the latter's FirePro D300, D500, and D700 GPUs in its Macs.
In the next part, we'll see which Apple products NVIDIA might power if the above rumor is true.