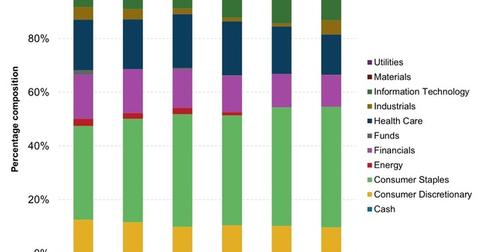 Analyzing Year-to-Date Portfolio Changes in JVIAX
By David Ashworth

Updated
Virtus Foreign Opportunities Fund overview
The Virtus Foreign Opportunities Fund (JVIAX) intends to invest at least 80% of its assets in equities issued by companies located outside of the United States. These issuers can be from emerging market countries as well. The fund prefers to diversify its holdings across several countries.
The fund aims to provide investors access to high-quality international companies. Its managers look for "well-managed businesses with consistent operating histories and financial performance that have favorable long-term economic prospects and, in most cases, generate free cash flow."
Note that the fund's management has undergone quite a few changes. Rajiv Jain stopped being the fund's manager in March 2016, when Matthew Benkendorf took over. Meanwhile, Daniel Kranson and David Souccar were appointed deputy managers of the fund in June 2016.
The fund's assets were spread across 43 holdings in June 2016, and it was managing assets worth $1.5 billion in July. As of June, its equity holdings included Philip Morris International (PM), Nestlé (NSRGF), class C shares of Alphabet (GOOG), Diageo (DEO), and PayPal Holdings (PYPL).
Article continues below advertisement
Portfolio changes in the Virtus Foreign Opportunities Fund
Unlike most other funds in this review, JVIAX's most invested sector is consumer staples. The sector forms a heaping 41.5% of the fund's assets. Healthcare is a distant second, followed closely by financials. The fund is only invested in six sectors, and it's not invested in the energy, materials, telecommunications services, or utilities sectors.
We've looked at the quarterly portfolios of JVIAX for the past three years until June 2016. In the above-mentioned period, the fund's affinity toward consumer staples only increased. While the consumer discretionary sector forms more of the fund's portfolio than it did three years ago, its weight is less than the 13% levels it saw intraperiod.
The healthcare sector has a similar story to tell. While financials and industrials are not as interesting to the fund's management as they were before, technology stocks have seen increased interest.
JVIAX was last invested in energy stocks in 4Q15, and it was last invested in materials and utilities in 1Q16.
How did JVIAX fare in 2016, and why? Let's explore this in the next article.