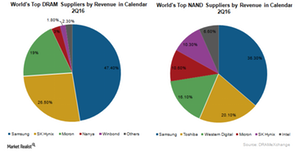 Analysts: Intel and China Are Interested in Micron
By Puja Tayal

Sep. 23 2016, Updated 8:05 a.m. ET
Micron a likely acquisition target
Micron Technology (MU) is among the few pure-play memory suppliers. It's exposed to the risks and opportunities of the highly commoditized memory market. Micron has more upside potential than downside potential, as the memory market environment has improved after 18 months of weakness.
Many analysts believe that Micron has received acquisition offers from one or more parties. Analysts' predictions came in July 2016, when the company disclosed a rights agreement that would help it avoid a change in ownership if an investor acquired more than a 5% equity stake in the company.
Article continues below advertisement
Credit Suisse analyst John Pitzer cited some media reports stating that Micron was in joint venture talks with China for NAND manufacturing. He also cited a media report stating that Intel (INTC) had slowed the expansion work at its memory plant in Dalian. This news raised doubt that Intel or China (MCHI) would be potential investors in or acquirers of Micron.
Possibility of Micron's acquisition by China
China has been interested in Micron for a long time. The nation looks to become self-sufficient in the semiconductor manufacturing industry. In June 2015, China's Tsinghua made an acquisition offer to Micron, but the deal was rejected by the US authorities over national security concerns. However, Tsinghua didn't stop its talks with Micron.
Recently, Tsinghua disclosed a 2% stake in Marvell Technology (MRVL) and may have also tried to acquire Micron's equity.
Possibility of Micron's acquisition by Intel
Intel and Micron are already in a DRAM (dynamic random access memory) partnership and have jointly developed 3D XPoint technology. However, the two companies are implementing this technology separately—Intel under the Optane brand and Micron under the QuantX brand.
If Intel acquires Micron, the former will get the complete benefit of 3D XPoint technology. In 2016, Intel started identifying non-volatile memory as a separate business segment, indicating its intention to grow in this market. Moreover, Micron's memory chips are in sync with Intel's long-term vision of the connected world.
Intel's acquisition of Micron would be directly accretive to its earnings and make it one of the leading players in the memory space. However, it would also expose Intel to the memory market's volatility.
If either of the above-mentioned acquisition offers materializes, Micron's shares could increase sharply. While this is just a possibility, what is certain is strong revenue growth in its fiscal 4Q16 earnings, which are due to release on October 4, 2016.