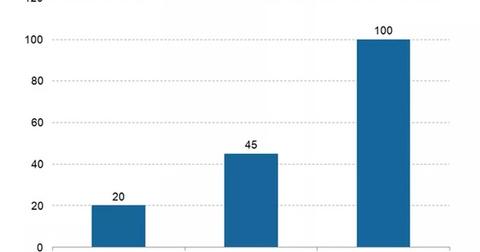 Why Amazon Is Pursuing International Sports Broadcasting Rights
By Shirley Pelts

Updated
Amazon continues to expand its programming
Amazon (AMZN) continues to expand the programming for its streaming service, Amazon Prime. According to a FierceCable report from September 13, citing a Bloomberg report, Amazon is in talks to acquire sports broadcasting rights for popular international sports like tennis and rugby. It's possible that with the acquisition of sports broadcasting rights, Amazon is trying to tap into new international subscribers. The company continues to expand its Prime program in international markets.
Article continues below advertisement
Amazon has been increasingly focusing on its $99-per-year Prime program. However, the company has evolved into a potent video streaming player as well. Recently, it launched its Video Direct service, which lets content creators upload videos for Prime members and earn royalties. This service directly challenges Alphabet (GOOG) YouTube's bread-and-butter business. All these efforts have helped Amazon become the second-most-sought-after player in the OTT (over-the-top) market.
In December, Amazon announced its Streaming Partners program, an OTT subscription service. This program lets users watch shows from CBS (CBS) Showtime, Starz, and dozens of other networks for a subscription fee. Users can subscribe to Showtime and Starz for $8.99 per month.
Amazon's Twitch
Amazon is already present in the live video gaming streaming space with its Twitch platform. At the end of 2014, Twitch had more than 100 million monthly unique users. In 2015, it had 1.7 million unique broadcasters compared to 1.5 million in 2014.
When Amazon acquired Twitch in 2014 for $970 million, Twitch was the fifth-largest video streaming website in the United States after Netflix (NFLX), YouTube, Amazon, and Hulu.
According to Twitch, the number of monthly unique visitors on its platform rose from 20 million in 2012 to 45 million in 2013 and 100 million in 2014, as you can see in the above graph. This was a CAGR (compounded annual growth rate) of more than 50% as gamers bought Microsoft's (MSFT) Xbox One and Sony's (SNE) PlayStation 4 with a built-in Twitch app.