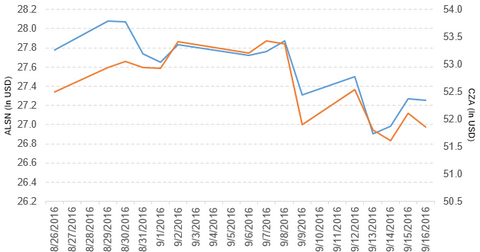 Allison Transmission Offers Senior Notes
By Gabriel Kane

Updated
Price movement
Allison Transmission Holdings (ALSN) has a market cap of $4.6 billion. It fell 0.07% to close at $27.25 per share on September 16, 2016. The stock's weekly, monthly, and year-to-date (or YTD) price movements were -0.22%, -0.26%, and 7.1%, respectively, on the same day.
ALSN is trading 1.5% below its 20-day moving average, 3.4% below its 50-day moving average, and 3.3% above its 200-day moving average.
Article continues below advertisement
Related ETF and peers
The Guggenheim Mid-Cap Core ETF (CZA) invests 0.66% of its holdings in Allison Transmission. The ETF tracks the Zacks Mid-Cap Core Index, a proprietary selected portfolio of 100 mid-cap stocks that seek to outperform pure market-cap indexes. The YTD price movement of CZA was 8.2% on September 16.
The market caps of Allison Transmission's competitors are as follows:
Latest news on ALSN
In a press release on September 16, 2016, Allison Transmission reported, "Allison Transmission, Inc. (the "Issuer"), a wholly owned subsidiary of Allison Transmission Holdings, Inc. (NYSE: ALSN) ("Allison" or "the Company"), priced its offering of $1 billion in aggregate principal amount of 5.000% Senior Notes due 2024 (the "Notes") on Sep. 14, 2016 in a private placement exempt from registration under the Securities Act of 1933, as amended (the "Securities Act"). This represents a $500 million increase in the size of the Notes offering from the initial proposed offering amount."
Article continues below advertisement
It also reported, "The Issuer intends to use the net proceeds from the offering of approximately $988.8 million (net of discounts to the initial purchasers and estimated fees and expenses for the offering), together with cash on hand, to repay approximately $1.2 billion of its outstanding term loans and pay related transaction fees and expenses. The Notes offering is expected to close on Sept. 23, 2016, subject to customary conditions."
Performance in 2Q16
Allison Transmission reported 2Q16 net sales of $474.9 million, a fall of 7.1% from $511.0 million in 2Q15. The company's gross profit margin rose 3.2%, and its operating income fell 7.6% from 2Q15 to 2Q16.
Its net income and EPS (earnings per share) rose to $60.8 million and $0.36, respectively, in 2Q16, compared to $54.4 million and $0.30, respectively, in 2Q15. It reported adjusted EBITDA[1. earnings before interest, tax, depreciation, and amortization] of $173.3 million in 2Q16, a fall of 6.6% from fiscal 2Q15.
Article continues below advertisement
Allison Transmission's cash and cash equivalents and inventories rose 44.8% and 6.4%, respectively, from 4Q15 to 2Q16. Its current ratio and debt-to-equity ratio rose to 2.2x and 2.8x, respectively, in 2Q16. This compares to 2.0x and 2.7x, respectively, in 4Q15. It reported adjusted free cash flow of $156.7 million in 2Q16, a rise of 13.3% over fiscal 2Q15.
Projections
The company made the following projections for fiscal 2016:
net sales to fall 9.5%–10.5%
adjusted EBITDA margin of 33.3%–34.0%
adjusted free cash flow of $415 million–$435 million
capital expenditure of $65 million–$75 million
cash income tax of $10 million–$15 million
In the next part of this series, we'll take a look at PepsiCo (PEP).