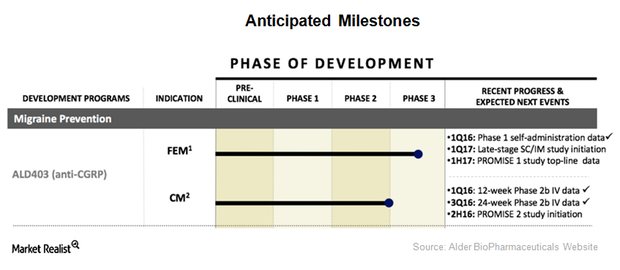 Alder BioPharmaceuticals's Migraine Therapy Shows Promise
By Margaret Patrick

Sep. 20 2016, Updated 10:05 a.m. ET
Investigational migraine drug: ALD403
On March 28, 2016, Alder BioPharmaceuticals (ALDR) announced that its migraine prevention therapy, calcitonin gene-related peptide (or CGRP) inhibitor, ALD403, met both the primary and secondary endpoints in a Phase 2b trial. This clinical trial aimed to test the efficacy of the investigational drug as a prophylactic therapy for chronic migraine.
The success of this trial catapulted Alder BioPharmaceutical's share price from $17.18 on March 24, 2016, to $25.70 on March 28, highlighting the strong investor expectations from this investigational therapy. The company is expected to pose strong competition to other players in migraine prevention segment, including Teva Pharmaceutical (TEVA), Amgen (AMGN), Eli Lilly (LLY), and Novartis (NVS).
If ALD403 can demonstrate similar positive results in its Phase 3 trials, it could further boost Alder BioPharmaceuticals's share price. It may also have a favorable impact on the share price of the iShares Nasdaq Biotechnology ETF (IBB), as Alder makes up ~0.28% of IBB's total portfolio holdings.
Article continues below advertisement
The above diagram lists the timeline of the multiple anticipated milestones in Alder BioPharmaceuticals's migraine prevention program. With respect to frequent episodic migraine (or FEM), which involves five to 14 migraine days per month, the company expects top-line data from the PROMISE 1 study in 1H17.
For chronic migraine with more than 15 headache days, which involve at least eight migraine days, Alder BioPharmaceuticals expects to initiate the PROMISE 2 study in 2H16.
Market opportunity
According to Alder BioPharmaceuticals, about 33 million adults in the US suffer from migraine. Out of these, 13 million patients are eligible for preventive migraine therapy. Further, 3 million of the eligible patients suffer from chronic migraine. These numbers highlight the scope of the market opportunity available in the migraine segment.
As a part of its strategy, Alder BioPharmaceuticals plans to create awareness for ALD403 by developing a sales team of 75–100 members to focus on neurologists in the US. This can help boost the company's revenues, as 43% of the patients eligible for migraine prevention in the US are currently being treated by neurologists.
In the final article in this series, we'll explore Alder Biopharmaceutical's investigational migraine drug, ALD403. We'll also see how the leading pharmaceutical companies, Teva Pharmaceutical and Eli Lilly, are actively pursuing opportunities in the migraine segment.