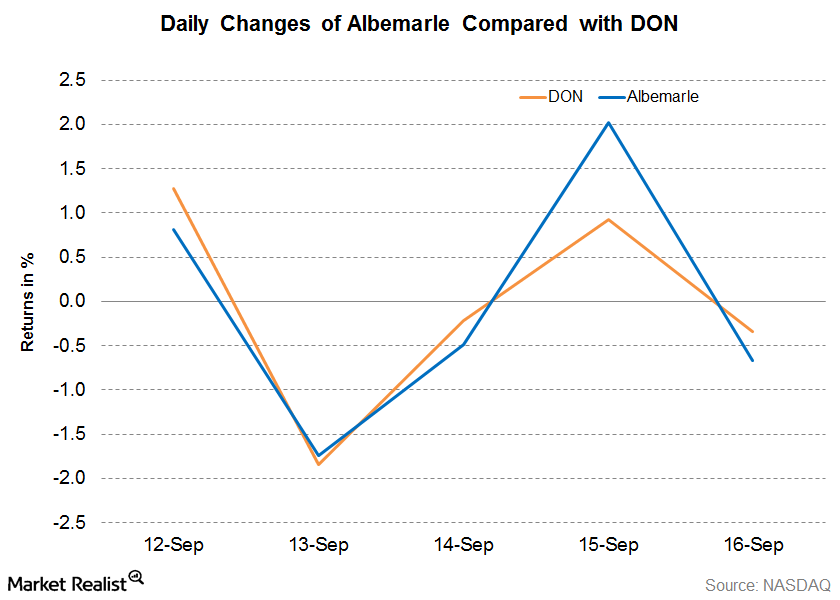 Albemarle Gets Exclusive Rights to Explore for Lithium
Albemarle gains exclusive rights to explore for lithium in Argentina
On September 12, 2016, Albemarle (ALB) announced that it had reached an agreement with Bolland Minera S.A. for the exclusive exploration and acquisition rights to a lithium resource in Antofalla. Antofalla is located in Argentina's Catamarca Province. Albemarle's management hopes that this could be the largest lithium resource in Argentina.
John Mitchell, president of Albemarle's Lithium and Advanced Materials global business unit, noted, "For the past 80 years, we have developed proprietary lithium extraction know-how which will enable us to evaluate the lithium resource."
Article continues below advertisement
In August 2016, Albemarle (ALB) acquired the lithium salt production assets from Jiangxi Jiangli New Materials Science and Technology. On September 13, Albemarle and its peers Westlake Chemical (WLK), Huntsman Corporation (HUN), and PolyOne Corporation (POL) made presentations at the KeyBanc Capital Markets Basic Materials and Packaging Conference.
At the conference, Albemarle noted that it expected a significant upside in the lithium demand in a variety of its segments, including Glass, Lubricants, Smartphones, Portable Electronics, Hybrid Electric Vehicles, Battery Electric Vehicles, and Grid and Other Power Storage Applications.
Albemarle reconfirmed its annual revenue from continuing operations for fiscal 2016 would range from $2.5 billion–$2.8 billion. Its adjusted EBITDA[1. earnings before interest, taxes, depreciation, and amortization] range from $705 million–$750 million.
Albemarle's stock price
On September 16, 2016, Albemarle (ALB) closed at $76.73, down 0.1% for the week. Albemarle traded 3.8% below its 100-day moving average price of $79.75. On a year-to-date basis, the stock has risen 37%.
Investors can gain broad-based exposure to Albemarle by investing in the WisdomTree Mid-Cap Dividend ETF (DON), which invested 0.5% of its portfolio in ALB on September 16, 2016.