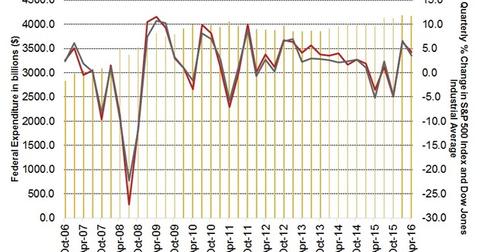 Why Aggregate Demand Could Help the Stock Market
By Russ Koesterich, CFA

Sep. 26 2016, Published 1:02 p.m. ET
Even if spending does rise, will it matter for the stock market? While there will doubtlessly be some stocks and segments that benefit, over the past century there has been no consistent relationship between federal spending and equity returns, as defined by the Dow Jones Industrial Average. Nor has there historically been much of a relationship between transfer payments, i.e. direct payments to individuals through various government programs, and market returns. In short, even if the next administration can summon the will and means to ramp up government spending, there may be a little discernible impact on the broader equity market.
Article continues below advertisement
Market Realist – Increased spending may result in wage inflation
As the United States enters the final weeks of presidential campaigns, we're seeing assertions as to whether Trump or Clinton would be better for stock markets. According to many economists, the stock market reaction would depend on the competition between a Democratic president and a Republican president.
As we discussed earlier in this series, increased spending or expansionary policy should lead to aggregate demand and employment, translating into more spending and higher levels of consumer (XLY)(XLP) confidence. This effect would help the stock market rise, as these interventions could lead to increased sales and earnings for mid-cap (IJH) corporations. But, with increased spending, wage inflation should rise, which may decrease corporate margins and offset gains in revenue.
Market Realist – Expansionary monetary policy has little beneficial effect at this point
In comparison, expansionary monetary policy works by improving financial conditions rather than demand. This approach pushes down interest rates and borrowing costs, which benefits the large-cap (SH)(VTI) corporations that make up the bulk of major stock indexes, such as the S&P 500 Index (SPY)(IVV)(VOO) and the Dow Jones Industrial Average (DIA).
Plus, government transfer payments are considered a component of personal income, so they don't impact market trends. These payments can be made at a federal, state, or local level.