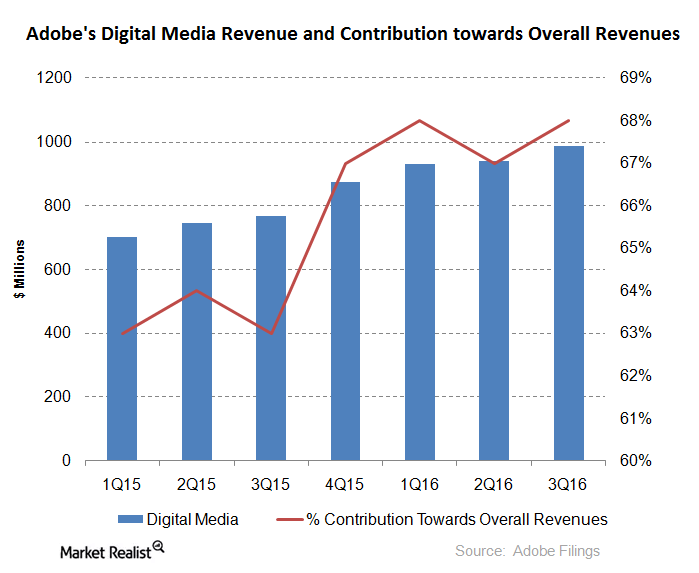 How Did Adobe's Digital Media Perform in Fiscal 3Q16?
Digital Media revenue contribution increased 29%
Previously in this series, we looked at Adobe Systems' (ADBE) fiscal 3Q16 results, which have continued to please investors as well as the market. Let's now look at the company's dominant operating segment, Digital Media, which contributed 29% more to revenues in fiscal 3Q16.
As we have highlighted in the past, Adobe's transition toward the subscription model has put the company's ARR (annualized recurring revenue) in the limelight. ARR shows us how much revenue the company is making from subscriptions.
Article continues below advertisement
Growing cloud adoption
Creative Cloud, a subsegment of Adobe's Digital Media segment, grew 39% and posted $803 million in revenue in fiscal 3Q16. Adobe generates Creative Cloud revenue from offerings such as Photoshop and Illustrator. Photoshop is available on Apple's (AAPL) iOS and Google's (GOOG) (GOOGL) Android systems. Creative Cloud is also hosted on Amazon (AMZN) Web Services.
Later in this series, we'll discuss Document Cloud's contribution to Adobe's Digital Media revenue growth. The continued adoption of Creative Cloud and Document Cloud enabled Adobe's Digital Media's ARR to reach approximately $3.7 billion in fiscal 3Q16. This represented a 8% sequential growth and a QoQ (quarter-over-quarter) increase of $285 million. Digital Media's ARR is well on its way to reach ~$4 billion by the end of fiscal 2016, as expected.
According to Adobe's recent earnings release, "in Digital Media, we expect to add slightly more than $300 million of net new Digital Media ARR during Q4 to achieve our full year target of approximately $4 billion of ARR exiting the year."