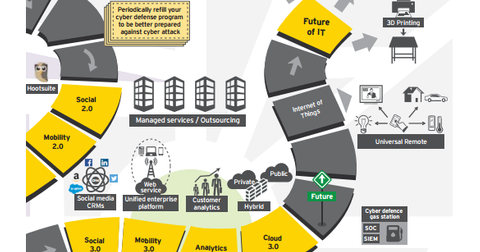 Why Is Adobe Targeting the Virtual Reality Space?
By Anne Shields

Sep. 20 2016, Updated 12:12 p.m. ET
Adobe targets AR and VR space
Earlier in this series, we discussed how Adobe's (ADBE) strategic initiatives in the digital marketing and marketing cloud spaces are expected to boost its success in the IoT space.
Keen to expand avenues for revenue growth, Adobe chose IBC 2016 in early September as the platform to unveil "new virtual reality, character animation and 3D innovations" in its CC (Creative Cloud) and Marketing Cloud offerings. IBC is an annual technology event that was held in Amsterdam in 2016 from September 9–September 13, 2016.
During IBC 2016, Bill Roberts, senior director of product management at Adobe, noted, "Adobe is helping video creators of all kinds — from broadcasters and big movie studios to YouTubers and brands – create their best work."
Roberts added, "Adobe's multiscreen solution helps media companies connect with their audiences in a personalized way by delivering compelling experiences and adopting immersive capabilities such as 3D, VR and (augmented reality) AR."
Regular updates and improvements in Adobe's Creative Cloud and Marketing Cloud businesses have been well received in the past. This positive reception is evident from the increase in subscriptions and Adobe's overall revenues.
Article continues below advertisement
Tech players actively pursue virtual and augmented reality
In March 2016, Deloitte Consulting noted that AR (augmented reality), VR (virtual reality), IoT, advanced analytics, and blockchain software are expected to be the most promising technologies in 2016.
In virtual reality, users can experience a 3D environment and also interact with that environment. Considering the heavy usage of Adobe products in the video industry, the company's initiative to upgrade its offerings is a natural step in seeking revenue growth.
According to market adviser Digi-Capital, the AR and VR market is expected to earn $120 billion in revenues by 2020. Of this total, AR is expected to have a $90 billion share, and VR is expected to earn ~$30 billion.
According to a KZero Worldswide report, the consumer VR market is expected to total $5.2 billion by 2018. Juniper Research expects about 3 million VR headsets to be shipped in 2016. About 30 million VR headsets could be shipped by 2020.
If we consider all these forecasts, it is not surprising that Adobe and other tech giants like Facebook (FB) and Microsoft (MSFT) are demonstrating growing interest in virtual reality. In 2015, Facebook unveiled Oculus Rift, a VR headset, and Microsoft launched HoloLens, an untethered AR/VR headset.
Correction: This post originally used outdated figures for Digi-Capital's forecasts. We have since updated the post, and we regret this error.