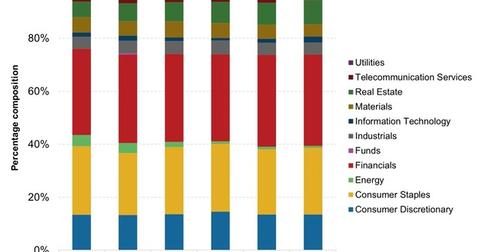 A Look at the Sectoral Composition of PRLAX in 2016
By David Ashworth

Updated
The T. Rowe Price Latin America Fund overview
The T. Rowe Price Latin America Fund (PRLAX) seeks long-term capital growth by investing "primarily in the common stocks of companies located, or with primary operations, in Latin America."
Under normal circumstances, the fund invests in at least four countries from the Latin American region. The fund's primary geographic focus is on Argentina, Brazil, Chile, Colombia, Mexico, Peru, and Venezuela.
Bottom-up stock research leading to stock selection is the backbone of the fund's investment process. The fund's management team doesn't aim at a specific geographic exposure. Instead, it's primarily driven by stocks deemed suitable to the investment objective of the fund.
Article continues below advertisement
The fund's assets were invested across 49 holdings in August 2016, and it was managing assets worth $623.8 million as of July's end. In June, its equity holdings included Banco Santander-Chile (BSAC), Grupo Aval Acciones y Valores (AVAL), Grupo Financiero Galicia (GGAL), Tenaris (TS), and TIM Participações (TSU). The fund is quite top heavy, with its top ten holdings forming 54.4% of its assets.
Portfolio changes in the T. Rowe Price Latin America Fund
The financials sector forms 41% of PRLAX's portfolio and is its top invested sector. The consumer staples sector is a distant second, but it still makes up a sizable 24% of the fund. It's followed by the consumer discretionary sector. Combined, the fund's top three sectors form 78% of its assets. The fund doesn't have any exposure to the healthcare sector.
We've looked at PRLAX's quarterly portfolios for the past three years leading up to June 2016. While both the consumer discretionary and consumer staples sectors have seen their respective shares of the portfolio pie increase in the period, the consumer staples sector has almost doubled its portfolio weight compared to three years ago.
Real estate and telecommunications services have seen opposite fortunes. The telecommunications services sector formed 9.5% of PRLAX three years ago and makes up just 2.7% of the fund now, while the real estate sector formed less than 2.5% of the fund's assets three years ago and forms over 9% now. While materials stocks are out of favor, utilities have seen their share increase.
How has PRLAX fared year-to-date, and why? Let's explore this in the next article.