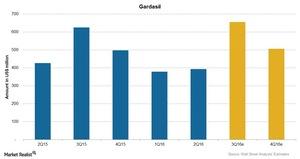 A Look at Gardasil and Merck & Co.'s Vaccines Business
By Mike Benson

Oct. 4 2016, Updated 10:04 a.m. ET
Gardasil
Gardasil is Merck & Co.'s (MRK) leading vaccines franchise. Gardasil is a vaccine for the prevention of strains of the human papillomavirus (or HPV) that are sexually transmitted.
Gardasil total sales in 2Q16 were $393 million, a 7% fall compared to $427 million in 2Q15. Gardasil's sales are estimated to rise to $655 million in 3Q16 and $506.5 million in 4Q16.
Article continues below advertisement
Gardasil's uniqueness
Gardasil is used in the prevention of certain HPV strains that are responsible for causing ~70% of cervical cancers and HPV-induced cancers, including anal, vulvar, vaginal, and penile cancers and genital warts.
The strong performance and presence of Gardasil 9 in the US reflects Merck's strength in securing managed care access and transitioning customers to the 9-valent vaccine.
Overall vaccine business for Merck
Gardasil contributed ~4% to Merck's total revenue in 2Q16, following a fall of 7% in its total sales due to the timing of purchases made by the public sector.
Overall, Merck's vaccines saw sales of ~$1.2 billion in 2Q16 compared to $1.1 billion in 2Q15. The revenue rises of the Pneumovax and ProQuad vaccines were partially offset by lower Gardasil sales in 2Q16. Merck's other vaccines include Zostavax and RotaTeq.
Gardasil competes with GlaxoSmithKline's (GSK) Cervarix. GlaxoSmithKline has also acquired Novartis's (NVS) vaccine business to strengthen its vaccines portfolio. Pneumovax competes with Pfizer's (PFE) blockbuster product Prevnar 13. 
Investors can consider ETFs such as the SPDR S&P Pharmaceutical ETF (XPH), which holds ~4.9% of its total assets in Merck, in order to divest their risk.