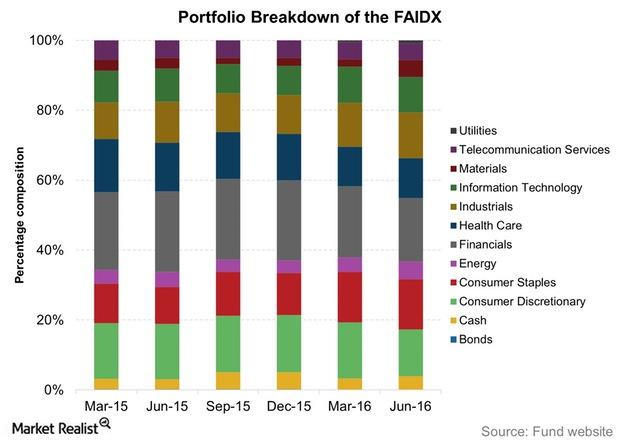 A Look at FAIDX's Year-to-Date Portfolio Changes
By David Ashworth

Sep. 7 2016, Published 4:46 p.m. ET
Fidelity Advisor International Discovery Fund overview
The Fidelity Advisor International Discovery Fund (FAIDX) primarily invests in non-US securities and prefers common stocks for investing in equities. Its assets are spread across multiple regions.
The fund's management uses a fundamental analysis of factors such as an issuer's financial condition and industry position, as well as market and economic conditions, before selecting stocks for its portfolio.
The fund's assets were spread across 212 holdings in June 2016, and it was managing assets worth $9.7 billion at the end of August. As of June, its equity holdings included Statoil (STO), GlaxoSmithKline (GSK), Vodafone Group (VOD), CRH (CRH), and ING Groep (ING).
Article continues below advertisement
Portfolio changes in the Fidelity Advisor International Discovery Fund
The financials sector is the top choice for FAIDX in terms of allocation. At a distance second and third place, but close to each other, are the consumer discretionary and industrials sectors, in that order. These top three sectors form 47% of FAIDX.
Compared to the MSCI EAFE Index, the fund is overweight the consumer discretionary and information technology sectors, and it's underweight the financials, healthcare, materials, and utilities sectors. In terms of other sectors, the fund is nearly the same as the benchmark.
We've looked at the quarterly portfolios of the fund for the past three years until June 2016. The fund's management's affinity for the consumer staples sector rose in this period, while its preference for the consumer discretionary sector paled.
Energy stocks form more of FAIDX's portfolio than they did three years ago but slightly less than they did intraperiod. The same is true for the healthcare sector. While industrials stocks have broadly maintained their portfolio weight, financials stocks have seen their share in the fund fall, and technology stocks have seen their share rise.
How has FAIDX fared in 2016, and why? Let's take a look in the next article.