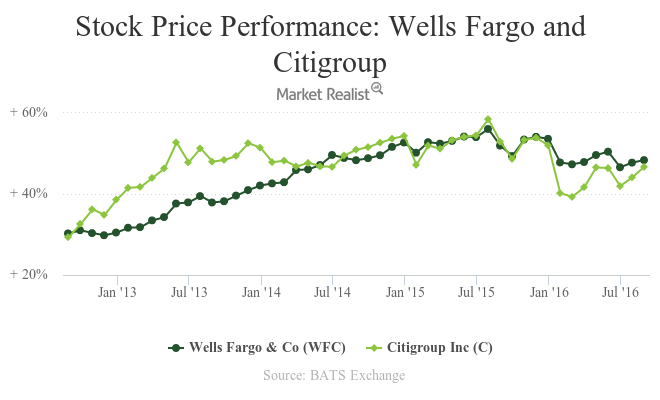 With the Financial Crisis behind, WFC and C Earnings Are in Focus
By Rebecca Keats

Aug. 29 2016, Updated 1:33 p.m. ET
Wells Fargo or Citigroup?
Wells Fargo and Citigroup have recovered well from the financial crisis. They have generated steady profits in the last few years and have strengthened their capital. Both these banks have opportunities to deliver good value to shareholders and to produce long-term growth. Analysts expect future earnings for Wells Fargo and Citigroup to grow. Many analysts believe that the cycle for the downward trend for banks is over, and investor sentiment will get better on banking stocks. Shares of Citigroup and Wells Fargo have shed 7.4% and 11% year-to-date, respectively, and provide a lucrative entry point for investors looking for long-term growth.
[marketrealist-chart id=1575012]
Article continues below advertisement
These banks (XLF) (VFH) passed the Fed's stress tests in June this year. They have solid leverage ratios and a strong capital base. Further, both these banks are currently restructuring their businesses. While they are comparable in terms of size and product offerings, they have their respective differences. Citigroup's return on equity (or ROE) was the hardest hit at the time of the financial crisis, and the bank nearly collapsed. The only bank among the big four banks to have a lower ROE than Citigroup is Bank of America (BAC). This explains the relatively lower price-to-book ratio for Citigroup. Comparatively, Wells Fargo has one of the highest return metrics among the large banks and trades at expensive valuations. Wells Fargo has been considered the strongest among the big banks in the United States for the way it recovered from the financial crisis, its low risk business model, and its consistent financial performance.
Series overview
In this series, we will compare Wells Fargo (WFC) and Citigroup (C) on the basis of their 2Q earnings, profitability, cost cutting initiatives, and their interest rate sensitivities. We will also discuss their consumer banking businesses and the relative performance of their trading and investment banking segments. Lastly, we will look at their dividend payouts, valuations, and analyst ratings.
First, let's look at how they performed in the second quarter.