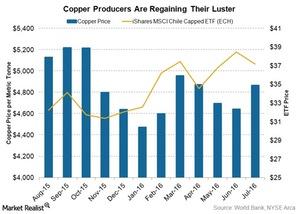 Will the Copper Price Rebound Continue to Support Chile's Surge?
By Surbhi Jain

Nov. 22 2019, Updated 11:44 a.m. ET
Copper prices impact Chile's GDP
The price of copper has increased from around $4,470 per metric ton in January 2016 to more than $4,800 per metric ton in July 2016. That's a rise of 7.4%. The recovery in copper prices this year has definitely helped build a case for Chile (ECH), the world's (ACWI) (VEU) largest copper producer.
With its large amount of copper resources, Chile alone accounts for more than a third of global copper output. Copper accounts for 54% of all Chilean exports and generates about 20% of the government's revenues. If the commodity price rebound this year continues to favor copper prices, Chile should see brighter days ahead.
However, the economy's GDP growth rate continues to be an area of concern for investors. Growth declined by 0.4% as of the second quarter this year after rising at 1.1% during the first quarter.
Article continues below advertisement
How China impacts Chile's economy
China (FXI) (YINN) is Chile's top export destination and accounts for about $19.3 billion worth of trade. The economic and industrial condition in China is one of the primary factors affecting this emerging market's (EDC) growth. With China seemingly out of its industrial recession and beginning to show signs of stabilization, one might expect its demand for copper to rise in the future.
Falling exports have taken their toll on Chile's currency as well. The Chilean peso has depreciated by more than 30% in the three years ended December 2015. The fall has hurt consumers' purchasing power while pushing the inflation rate to 4.8% as of January 2016. That's higher than the central bank's target range of 2%–4%.
However, inflation has declined to 4% as of July 2016, and the peso has risen from about 730 Chilean pesos per US dollar in January 2016 to around 670 currently.
However, valuations indicate that earnings aren't being supportive of the surge in Chilean equity. Let's see why in the next part.