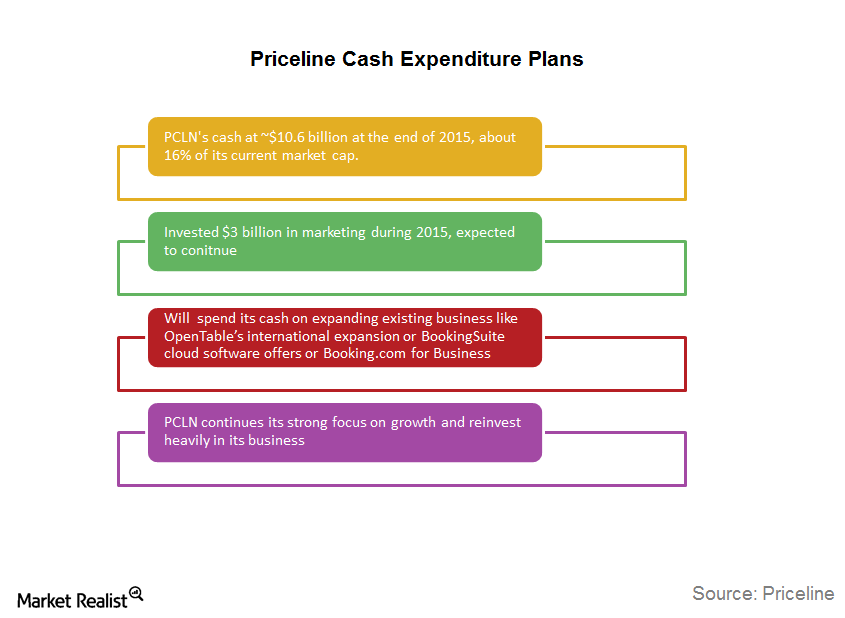 Will Priceline Start Paying Dividends in 2016?
Strong cash flows
In the first half of 2016, Priceline Group (PCLN) generated operating cash flow of $1.3 billion, or about 29.5% of its gross profit. At the end of 2Q16, its total cash and equivalents stood at about $2.7 billion.
Article continues below advertisement
Marketing investment
Priceline will continue to invest in marketing in 2016 in order to build a stronger brand image for its brands around the world. It has also aimed to bring new customers to its website. As Priceline continues to grow in this extremely competitive market, marketing expenses will likely continue to form a significant part of the company's total spending.
Acquisitions and investment
The online travel industry has been buzzing, with key players aggressively acquiring smaller competitors and consolidating. Priceline has also made some key acquisitions in past years, such as Agoda.com, Kayak, Rentalcars.com, and OpenTable. The company even reinvested in Ctrip, with a fresh investment of $500 million in December 2015, taking its total investment in the company to around $2 billion.
Outlook
For the remainder of 2016, Priceline said it would spend its cash on exciting new opportunities like OpenTable's international expansion or BookingSuite cloud software offers or Booking.com for business. This essentially means that PCLN continues its strong focus on growth, which is good news for investors.
Companies focused on growth usually do not pay out dividends, as has been the case with PCLN. It's reasonable to think that this trend will continue in 2016, as PCLN continues to reinvest heavily in its business. Notably, PCLN makes up ~0.35% of the iShares Core S&P 500 ETF (IVV), and its rivals include Expedia (EXPE), TripAdvisor (TRIP), and Ctrip International (CTRP).
Now let's analyze Priceline's leverage.