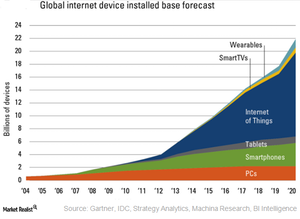 How Will Intel Leverage ARM Partnership to Grow in IoT Space?
By Puja Tayal

Updated
Intel-ARM partnership to go beyond mobile to IoT
In the previous part of the series, we saw that Intel (INTC) is looking to tap the mobile market by partnering with ARM Holdings (ARMH). The combination of Intel's 10 nm (nanometer) process node and ARM's advanced chip designs would be positive for smartphone makers. The partnership will not only help Intel tap the smartphone market but also the IoT (Internet of Things) market.
Many analysts say that ARM is better positioned than Intel to tap embedded devices since they require power-efficient chips.
Article continues below advertisement
ARM chips better positioned to tap IoT revolution
Intel's x86 architecture is based on CISC (complex instruction set computing), which delivers high performance but consumes more power than ARM chips. Intel's chips are appropriate for devices such as automotive, PCs (personal computers), and servers where high computing is required.
On the other hand, ARM's architecture is based on RISC (reduced instruction set computing), which delivers lower performance but is power-efficient compared to x86. ARM chips are used in smartphones and embedded devices that require average computing but high power savings. SoftBank acquired ARM to tap the IoT revolution.
Intel's strategy to expand in IoT space
With PC sales falling, Intel is looking to expand its IoT business, which currently generates 4% of the company's revenue. It has partnered with BMW and Mobileye (MBLY) to build autonomous car platforms. It has acquired Altera to build programmable chips, and has now partnered with ARM to build IoT and smartphone chips.
Intel can participate in the IoT revolution in two ways. First, it can design and manufacture chips for embedded devices, networking, and servers. Second, it can manufacture competitor ARM chips for embedded devices. The Samsung (SSNLF) foundry tapped the mobile revolution in a similar way. It manufactured its own mobile processors and rival Apple's (AAPL) mobile processors, thus also benefiting from the rival's sales.
Intel expects 50 billion connected devices to be in use by 2020, generating a good opportunity for the company's foundry business. The benefit of the Intel-ARM partnership would be visible in the medium and long term as IoT growth picks up speed.