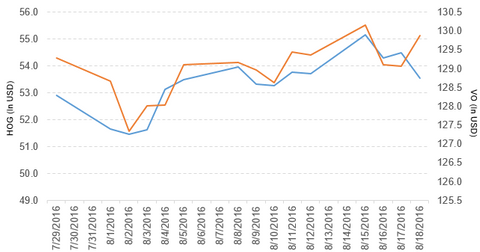 Why Will Harley-Davidson Pay a $12 Million Fine?
By Gabriel Kane

Aug. 19 2016, Published 12:12 p.m. ET
Price movement
Harley-Davidson (HOG) has a market cap of $9.6 billion. It fell by 1.7% and closed at $53.54 per share on August 18, 2016. The stock's weekly, monthly, and YTD (year-to-date) price movements were -0.45%, 8.5%, and 20.0%, respectively, on the same day. Harley-Davidson is trading 2.1% above its 20-day moving average, 9.4% above its 50-day moving average, and 16.3% above its 200-day moving average.
Article continues below advertisement
Related ETFs and peers
The Vanguard Mid-Cap ETF (VO) invests 0.27% of its holdings in Harley-Davidson. VO tracks the CRSP US Mid-Cap Index—a diversified index of mid-cap US companies. VO's YTD price movement was 8.8% on August 18.
The Vanguard Large-Cap ETF (VV) invests 0.04% of its holdings in Harley-Davidson. VV tracks a market-cap-weighted index that covers 85% of the market capitalization in the US equity market.
The market caps of Harley-Davidson's peers are as follows:
Latest news on Harley-Davidson
In a press release on August 18, 2016, Reuters reported that "Harley-Davidson Inc. (HOG) agreed to pay a $12 million civil fine and stop selling illegal after-market devices that cause its motorcycles to emit too much pollution, the US Justice Department said on Thursday."
It also noted that "The settlement resolves government allegations that Harley sold roughly 340,000 'super tuners' enabling motorcycles since 2008 to pollute the air at levels greater than what the Milwaukee-based company certified to the US Environmental Protection agency." It added that "Harley did not admit liability, and said in a statement it disagrees with the government's position arguing that the devices were designed and sold to be used in 'competition only.'"
Article continues below advertisement
Performance in 2Q16
Harley-Davidson reported 2Q16 motorcycles and related products revenue of $1.67 billion—a rise of 1.2% compared to motorcycles and related products revenue of $1.65 billion in 2Q15. The company's retail sales in the US and Latin America fell by 5.2% and 5.0%, respectively, compared to 2Q15. Its retail sales in Canada, EMEA (Europe, the Middle East and Africa), and the Asia-Pacific region rose by 2.0%, 8.2%, and 0.75%, respectively, in 2Q16—compared to 2Q15.
Harley-Davidson's financial services revenue was $191.0 million in 2Q16—a rise of 10.0% compared to the same period last year. The company's gross profit of motorcycles and related products and its operating income fell by 7.2% and 10.9%, respectively, in 2Q16—compared to the same period last year.
Its net income fell to $280.4 million and its EPS (earnings per share) rose to $1.55 in 1Q16—compared to its net income and EPS of $299.8 million and $1.44, respectively, in 1Q15.
Harley-Davidson's cash and cash equivalents and finance receivables both rose by 19.7%, respectively, and its inventories fell by 36.6% in 1Q16—compared to 4Q15. Its current ratio rose to 1.7x in 1Q16—compared to 1.4x in 4Q15. It reported a long-term debt-to-equity ratio of 2.6x in 1Q16 and 4Q15.
Projections
The company made the following projections for 2016 and 3Q16:
2016
motorcycle shipments of 264,000—269,000—a rise of approximately -1%—1% compared to 2015
an operating margin of ~15%–16% for the motorcycles segment
capital expenditure of $255 million–$275 million
an effective tax rate of ~33%
3Q16
motorcycle shipments of 49,000–54,000.
In the next part of this series, we'll discuss Coca-Cola (KO).