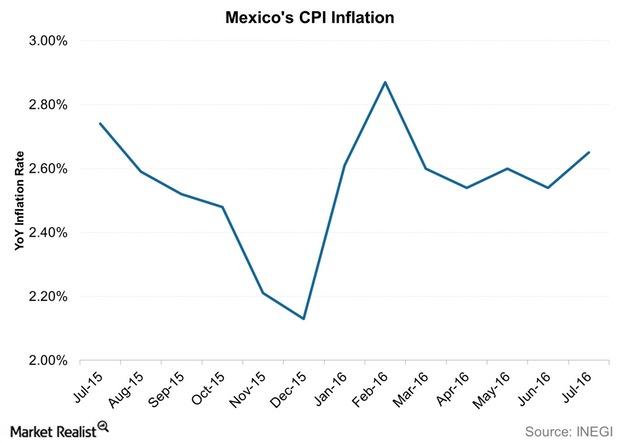 Will Banco de Mexico Follow the Fed in Raising Rates in 2016?
By David Ashworth

Dec. 4 2020, Updated 10:53 a.m. ET
The state of Mexico's economy and interest rates
Mexico's economy is facing a tougher 2016 than earlier anticipated. On August 22, 2016, the country's finance ministry reduced the economic growth forecast to 2.0%–2.6% from 2.2%–3.2% after its economic output declined in 2Q16. Mexico's economic growth stood at -0.2% in 2Q16 from the beginning of 2016, the first contraction since 2016. A decline in exports (CX) (FMX) (IBA) to the United States, its biggest trading partner, and the nosedive in crude oil prices have hurt the Mexican economy.
Article continues below advertisement
On August 11, 2016, Banco de Mexico left its benchmark interest rate at 4.25% after raising it by 50 basis points on June 30, 2016, in response to the Brexit vote. The central bank has already raised interest rates twice this year, once in February at an extraordinary meeting and another in June. Since the rate hike by the Fed in December 2015, Banco de Mexico has raised rates three times, totaling 125 basis points.
Agustín Carstens at Jackson Hole
Banco de Mexico chief Agustín Carstens was a participant at this year's Jackson Hole Economic Symposium. On the sidelines of the symposium, Carstens was interviewed by Wall Street Journal reporters Jon Hilsenrath and Harriet Torry.
Commenting on Mexico's increasing public debt, he said the fall in crude oil prices has significantly impacted public finances in Mexico as well as growing pension payments. He said that "traditionally, oil-related income would finance more than 30% of expenditures, and lately it has been only 13%."
Article continues below advertisement
In the interview, Carstens was asked about making changes to Mexico's monetary policy when the US Federal Reserve moved. Carstens said that Banco de Mexico has explicitly mentioned in its statements that the monetary policy stance of Mexico compared to the United States would be an important factor. But he conditionally clarified that the bank would like to see the impact of a rise in interest rates in the United States on Mexico's inflation before making a move.
He also said that an anticipated move by the Fed already makes its way to the exchange rate channel and doesn't materially shift inflation expectations. He may not see a move by Banco de Mexico in immediate response to a rate hike by the Fed. He stated that his bank has already moved twice after the Fed moved in December 2015, so there may not be an immediate need to raise interest rates in Mexico if the Fed does so in the United States.
Investors in Mexico (EWW) (ILF) may want to take note of Carstens' comments. Japan also spoke at the symposium. Let's look at those views in the next part.