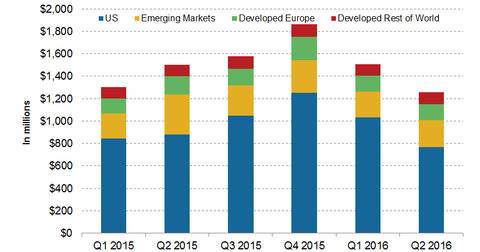 Why Pfizer's Vaccines Business Is Declining
By Jillian Dabney

Sep. 1 2016, Updated 10:04 a.m. ET
Pfizer's Vaccines business 
With the acquisition of Baxter's marketed vaccines, Pfizer (PFE) gained access to NeisVac-C and FSME-IMMUN/TicoVac. NeisVac-C vaccine protects against meningitis caused by group C meningococcal meningitis while FSME-IMMUN/TicoVac offers protection against tick-borne encephalitis.
During the first three months of 2016, Prevnar/Prevenar 13 earned $1.3 billion while the addition from FSME/IMMUN-TicoVac stood at $42 million. Prevnar/Prevenar 13 is recommended for the prevention of pneumococcal disease. It earned $768 million from the US during 2Q16.
Article continues below advertisement
Factors behind declining Vaccines business
In 2Q16, Prevnar's overall revenues fell by 16% when compared with 2Q15. A smaller remaining catch-up opportunity for the drug would be a major problem in the near term. Vaccinations are administered on a one-time basis for an individual.
By the end of June 2016, ~40% of the adult population over 65 had already been vaccinated by the drug. The remaining 60% represents an opportunity for Prevnar. Internationally, the vaccine's revenues were impacted by purchase timings from Gavi and Vaccine Alliance.
The declining vaccine portfolio could receive support from the pipeline vaccines after approval. The two vaccines under development are Staphylococcus aureus and Clostridium difficile. These are in Phase 2 clinical development. Pfizer expects Phase 2 data for Clostridium difficile by the end of 2016.
Other major companies operating in the vaccine segment include GlaxoSmithKline (GSK), Merck (MRK), and Sanofi (SNY). Merck's Pneumovax competes with Prevnar 13. Pfizer's Trumenba vaccine competes with GlaxoSmithKline's meningitis product Bexsero and Sanofi's Menactra.
To understand Sanofi's growing Vaccine business, please read Is the Growing Vaccine Business a Valuation Catalyst for Sanofi?
Investing in the iShares Dow Jones US Pharmaceutical Index ETF (IHE) offers ~8.1% exposure to Pfizer. Continue to the next part to understand Pfizer's Oncology business.