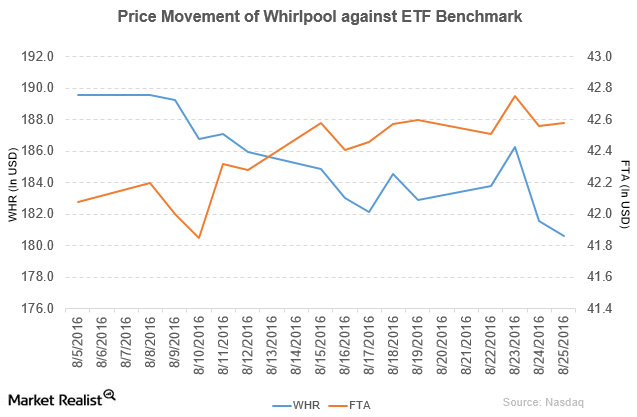 Why Did Whirlpool Recall 15,200 Microwaves?
Price movement
Whirlpool (WHR) has a market cap of $13.8 billion. It fell by 0.55% to close at $180.58 per share on August 25, 2016. The stock's weekly, monthly, and year-to-date (or YTD) price movements were -1.6%, -4.8%, and 25.1%, respectively, on the same day. WHR is trading 3.0% below its 20-day moving average, 1.1% above its 50-day moving average, and 10.6% above its 200-day moving average.
Article continues below advertisement
Related ETFs and peers
The First Trust Large Cap Value AlphaDex ETF (FTA) invests 0.34% of its holdings in Whirlpool. The ETF tracks an index that selects and weights value stocks from the S&P 500 Value Index using fundamental factors including sales, book value, and cash flows. The YTD price movement of FTA was 10.8% on August 25.
The SPDR S&P 500 ETF (SPY) invests 0.07% of its holdings in Whirlpool. The ETF tracks a market-cap-weighted index of US large- and mid-cap stocks selected by the S&P Committee.
The market caps of Whirlpool's competitors are as follows:
Latest news on Whirlpool
Whirlpool has recalled 15,200 Whirlpool brand microwaves due to a fire hazard. Reuters reported that "the formation of internal sparks when the product was being used could ignite a plastic component, posing a fire hazard."
Article continues below advertisement
Performance of Whirlpool in 2Q16
Whirlpool reported 2Q16 net sales of $5.20 billion, a fall of 0.19% from its net sales of $5.21 billion in 2Q15. The company's gross margin and operating profit rose by 7.2% and 34.1%, respectively, between 2Q15 and 2Q16.
Its net income and EPS (earnings per share) rose to $320.0 million and $4.15, respectively, in 2Q16, compared with $177.0 million and $2.21, respectively, in 2Q15.
Whirlpool's cash and cash equivalents and inventories rose by 24.2% and 22.3%, respectively, between 4Q15 and 2Q16. Its current ratio rose to 0.98x and its long-term debt-to-equity ratio fell to 0.96x in 2Q16, compared with 0.95x and 0.99x, respectively, in 4Q15.
Quarterly dividend
Whirlpool has declared a quarterly dividend of $1 per share on its common stock. The dividend will be paid on September 15, 2016, to shareholders of record at the close of business on August 26, 2016.
Projections
The company has made the following projections for fiscal 2016:
EPS in the range of $11.50–$12
ongoing business EPS in the range of $14.25–$14.75
free cash flow in the range of $700 to $800 million, which includes restructuring cash outlays of up to $200 million, legacy product warranty and liability costs of $155 million, and capital spending of $700 million to $750 million.
cash from operating activities in the range of $1.4 billion to $1.6 billion
industry unit shipments to increase by 5%–6% in the United States, to be flat to up by 2% in EMEA (Europe, the Middle East, and Africa), to fall by 10% in Brazil, and to be flat in Asia
Next, we'll discuss Toyota Motor (TM).