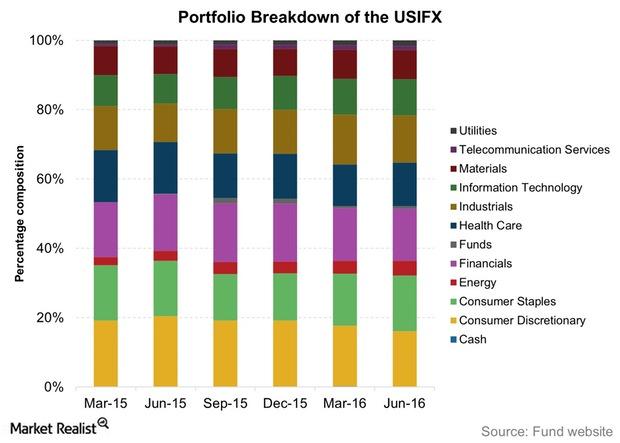 What's the Sector Composition of the USAA International Fund?
By David Ashworth

Aug. 26 2016, Published 5:40 p.m. ET
USAA International Fund overview
The USAA International Fund invests at least 80% of its assets in foreign equities. Apart from common stocks, the fund can invest in preferred stocks, depositary receipts, convertible securities, and rights and warrants. The fund is managed by a team of sub-advisors from three different firms.
Though the fund aims to invest in different countries, it can invest a sizable portion of its assets in a single country, group of countries, or region. The fund can invest across market caps and makes use of a blend of bottom-up and top-down analysis. Fund management looks at factors like a company's earnings, cash flows, competitive position, and management ability.
The fund's assets were spread across 613 holdings as of July 2016 and was managing assets worth $3.5 billion. As of May, its equity holdings included WPP (WPPGF), Yum! Brands (YUM), Diageo (DEO), Novartis (NVS), and ING (ING).
Article continues below advertisement
Portfolio changes in the USAA International Fund
The USIFX sector allocation is quite evenly divided. The top three invested sectors: consumer staples, consumer discretionary, and financials, in that order, have portfolio weights inside a 1% band. Industrials and health care sectors round off the top five invested sectors.
We've looked at the quarterly portfolios of the fund for the past three years until June 2016. While consumer staples have broadly maintained their portfolio weight, except for two quarters, the consumer discretionary sector has seen quite a bit of change in allocation. Financials and materials form less of the portfolio than they used to three years ago. On the other hand, health care and industrials have seen their respective weights increase over the period.
Assets of the USIFX are spread across the largest number of stocks among the 12 funds in this review.
How has the USAA International Fund (USIFX) fared in YTD 2016? Let's look at that in the next article.