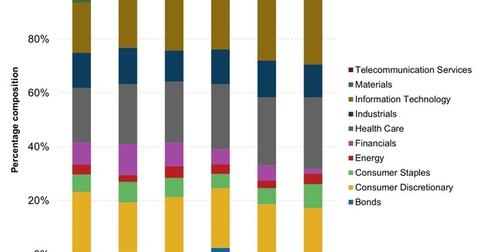 What's the Sector Composition of the Ivy Global Growth Fund?
By David Ashworth

Updated
Ivy Global Growth Fund overview
The Ivy Global Growth Fund is not like most funds in this review because of its inclination towards US stocks. The fund manager looks for companies that she believes "are competitively well-positioned, gaining market share, have the potential for long-term growth and/or operate in regions or countries that possess attractive growth characteristics."
The fund has a large-cap bias, though it can invest in companies of any size. Fund literature states that normally, 40% of the fund's assets would be invested in stocks of foreign issuers. At any point in time, the fund aims to remain invested in at least three countries and would hold 50-70 stocks. Bottom-up stock selection is followed by top-down global economic analysis.
The fund's assets were spread across 47 holdings as of July 2016, and the fund was managing assets worth $490.4 million. As of June, its equity holdings included Amazon (AMZN), Visa (V), Carnival (CCL), HCA Holdings (HCA), and Rockwell Collins (COL).
Article continues below advertisement
Portfolio changes in the Ivy Global Growth Fund
Information technology and healthcare sectors are quite close in terms of the percentages of the firm's portfolio that are allocated to them with the former elbowing out the latter to take the top spot. These two sectors alone form a combined 53.7% of the assets. Consumer discretionary stocks are a distant third and form 18% of the assets. The fund is not invested in the materials and utilities sectors.
Foreign stocks form only 36.3% of the IVINX, while US stocks account for 58.8% of the portfolio. Combined with cash and equivalent investments, the overall exposure to the US stands at 61.9%, making it the geography with the largest weight.
A look at the quarterly portfolios over the past three years shows that exposure to consumer discretionary stocks rose intra-period but fell from its peak of 25%. Meanwhile, after having been reduced to 3%, the weight of consumer staples has been pumped up to 9%, similar to the level three years ago. Financials have seen a drastic reduction. Stocks from the sector used to form over a tenth of the assets three years ago but form less than 1% at present. On the other hand, healthcare and information technology stocks have seen a sharp increase in portfolio weight.
How has the Ivy Global Growth Fund – Class A (IVINX) fared in YTD 2016? Let's look at that in the next article.