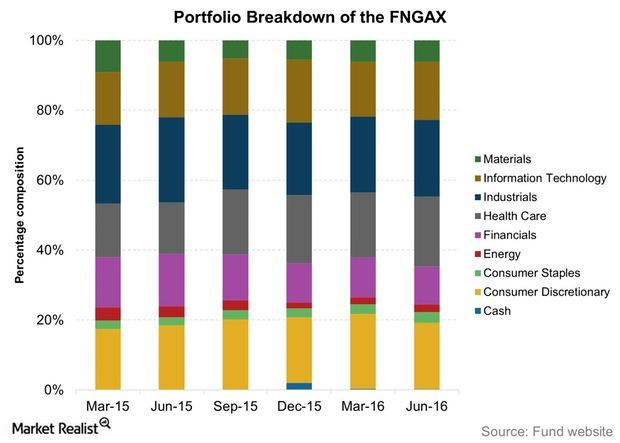 What's the Sector Composition of the FNGAX?
By David Ashworth

Aug. 26 2016, Published 5:39 p.m. ET
Franklin International Growth Fund overview
The Franklin International Growth Fund invests "in the equity securities of mid- and large-capitalization companies outside the U.S. with long-term growth potential." When fund management refers to mid-cap and large-cap companies, it means companies with market caps of above $2 billion. The fund can invest up to a fifth of its assets in emerging market countries.
Fund management undertakes the bottom-up approach to investment in order to find companies that have higher expected earnings and revenue growth than their peers. Managers look for companies that offer "the most attractive combination of growth, quality and valuation." The fund's assets were spread across 39 holdings as of June 2016, and it was managing assets worth $410.5 million at the end of July. As of June, its equity holdings included Alkermes (ALKS), Amec Foster Wheeler (AMFW), ARM Holdings (ARMH), Delphi Automotive (DLPH), and Check Point Software Technologies (CHKP).
Article continues below advertisement
Portfolio changes in the Franklin International Growth Fund
Industrials is FNGAX's top choice as far as sector allocation goes. Close behind are the health care and consumer discretionary sectors, in that order. Since the previous reporting period, the health care sector has overtaken the consumer discretionary sector in terms of portfolio weight. The top two sectors command over a fifth of the portfolio each, while consumer discretionary, whose weight has been reduced from the previous reporting period, forms 19% of the assets. The fund is not invested in the telecom services and utilities sectors. Since the portfolio is quite concentrated, its top ten holdings form a third of the total assets.
We've looked at the quarterly portfolios of the fund for the past three years until June 2016. Until March 2016, there are clear trends visible, some of which have been broken in June 2016. Affinity towards consumer discretionary stocks has skyrocketed in this period, while that towards consumer staples has waned sharply. While exposure to financials and materials has seen a sharp decline, exposure to health care and industrials has seen a sizable uptick. The tech sector is the only one that has mostly maintained its portfolio weight.
How has the Franklin International Growth Fund – Class A (FNGAX) fared in 2016 so far? Let's look at that in the next article.