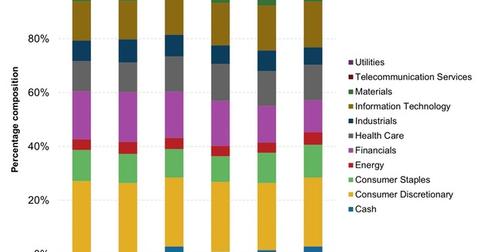 What's the Sector Composition of the Fidelity Advisor Overseas Fund?
By David Ashworth

Updated
Fidelity Advisor Overseas Fund overview
The Fidelity Advisor Overseas Fund invests at least 80% of its net assets in common stocks of non-US issuers. The fund manager uses a combination of bottom-up and top-down research by applying fundamental analysis on each issuer's financial condition and industry position. The fund also looks at market and economic conditions while constructing the portfolio.
The fund's assets were spread across 193 holdings as of June 2016 and was managing assets worth $644 million as of July. As of June, its equity holdings included Astellas Pharma (ALPMY), Vodafone Group (VOD), ORIX (IX), Deutsche Telekom (DTEGY), and Diageo (DEO).
Article continues below advertisement
Portfolio changes in the Fidelity Advisor Overseas Fund
The FAOAX has bet on the consumer discretionary sector as its top sectoral choice. The sector forms a fourth of the total assets. Information technology is second, followed by healthcare, which has replaced financials since we last reviewed the fund. These three sectors form 55.6% of the fund's portfolio.
Compared to the MSCI EAFE Index, the FAOAX is noticeably overweight in the consumer discretionary sector. Its weight in the consumer sector is twice as high as the sector's weight in the index. Information technology is another sector in which the fund is sharply overweight compared to the benchmark. Stocks from the sector in the fund's portfolio are three times the percentage they comprise in the index. Meanwhile, the sectors in which the fund is drastically underweight are financials, industrials, materials, and utilities, which form less than half of the fund compared to their respective weights in the index.
A look at the quarterly sectoral composition of the fund over the past three years until June 2016 shows what seem to be measured steps to change the portfolio's composition. This is corroborated by the fund's relatively low portfolio turnover. Allocation to consumer discretionary stocks has almost always been above the 25% mark for the past three years, making it the biggest invested sector. Staples used to command a higher share of the portfolio three years ago but have been in a narrow range for the past 2.5 years.
The trends in financials and materials have contrasted sharply with trends in health care and information technology. While the fund has steadily reduced exposure to the first two in the past three years, it has steadily increased exposure to the last two sectors.
How has the Fidelity Advisor Overseas Fund – Class A (FAOAX) fared in YTD 2016 and why has it fared so? Let's look at that in the next article.