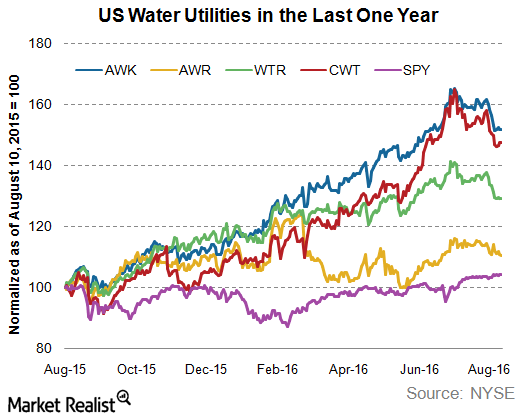 What's Next for Water Utilities after an Exciting Rally This Year?
By Vineet Kulkarni

Nov. 20 2020, Updated 11:40 a.m. ET
US water utilities on a roll
US utilities have stolen the spotlight this year with an unusual rally that has pleased investors. Notably, US water utilities have soared more than electric utilities in the past six months, and the 15% correction in water utilities in the past couple of months has once again grabbed investors' attention. Let's see how water utilities are faring in the US investment universe and what their current valuations indicate.
US water utilities have outperformed broader equities during the past year by a huge margin. In this series, we'll primarily consider the four largest US water companies by market capitalization:
Article continues below advertisement
Market performance
Since the beginning of 2016, volatile broader equities encouraged low-risk investing among market players. Utilities remained the top performers due to their attractive yields and favorable valuations.
The $14 billion American Water Works (AWK)—the largest and most geographically diversified water utility in the US—has rallied by nearly 40% so far this year. Aqua America (WTR) has surged by 10% YTD (year-to-date), while American States Water and California Water Service have gained by 5% and 35%, respectively, during the same period.
Investing in water utilities (CGW) could be a decent option for conservative investors given their yields and stable stock movements. Demand for water as a commodity is expected to increase substantially in the coming years due to its limited availability. Rising population, economic growth, and climate change are likely to put increased pressure on already scarce water resources. Thus, technological advancements in water recycling or conservation will be significant. Investment in water technologies could thus bode well for these utilities' growth.
Now let's look at the total returns of these companies.