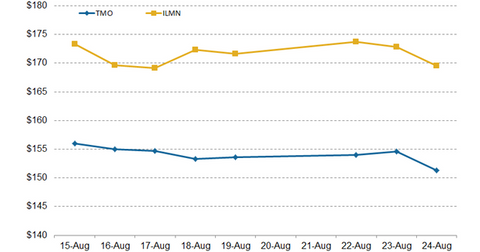 What's behind Thermo Fisher's Rumored Acquisition of Illumina?
By Sarah Collins

Updated
Stock price impact of the news
On August 18, 2016, Illumina (ILMN) rose more than 3% amid rumors of Thermo Fisher Scientific (TMO) acquiring Illumina for $30 billion in an all-stock deal. However, Thermo Fisher Scientific's stock fell by around 1% following the news.
Illumina is the largest player in the gene sequencing market and has approximately 75% of the market share. It is Thermo Fisher Scientific's major rival in the sequencing market. It has exhibited strong growth in the past five years registering approximately 100% growth in revenues and establishing a strong market position. In 2012, Roche Holdings proposed the acquisition of Illumina for $6.7 billion, which the company rejected. Illumina reported revenues of approximately $0.6 billion in the recently reported quarter. Pacific Biosciences (PACB) is another smaller company in the gene sequencing market. To know more about Illumina, read Illumina: A Must-Read Company Overview.
Article continues below advertisement
What are the odds of the acquisition?
Thermo Fisher Scientific has grown through a large number of acquisitions in recent years. Acquisition has been its key growth strategy. The company made several big acquisitions such as Affymetrix and Life Technologies in the recent years and announced the acquisition of FEI Company (FEIC) in May 2016, which is expected to be completed by the end of 2016. These acquisitions are still going through integration efforts. Undertaking another big acquisition will lead to the company increasing its risk profile and margin pressures.
Moreover, Thermo Fisher Scientific already has its portfolio of gene-sequencing products and the proposed acquisition may raise antitrust issues. However, if the deal goes through, it will definitely help Thermo Fisher Scientific expand in the next-generation sequencing market.
Investors interested in participating in the growth potential of Thermo Fisher Scientific can gain diversified exposure to the company by investing in the SPDR S&P 500 ETF (SPY).