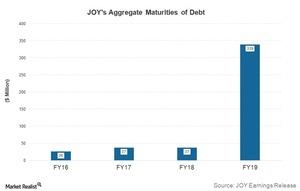 What Does Joy Global's Fiscal 2016 Debt Obligation Tell Us?
JOY's debt position
As of April 29, 2016, Joy Global (JOY) had more than $1.3 billion in debt (long-term debt plus short-term debt), as compared to its equity of nearly $1.4 billion. These figures imply a debt-to-equity ratio of ~0.94x. The company's cash stood at $160.8 million on the same date.
JOY's aggregate maturities of debt according to credit agreements are $26 million, $37 million, and $37 million in 2016, 2017, and 2018, respectively. A major chunk of this—$339 million—is due in 2019.
Article continues below advertisement
Is JOY capable of repaying?
JOY reported cash generation from continuing operations of $44 million, as compared to $71.1 million in fiscal 1Q16. This figure was primarily driven by the company's reduced working capital requirement, and it clearly shows the management's effort toward balance sheet consolidation in a challenging environment. It also shows the company's capability to honor its debt obligations in fiscal 2016.
To gain exposure to JOY while divesting risk, investors can consider ETFs such as the VanEck Vector Coal ETF (KOL), which has ~5.5% of its total assets JOY, or the Guggenheim S&P Mid-Cap 400 Pure Value ETF (RFV), which has ~4.1% of its total assets in the company.
RFV also has 4.0% of its total assets in U.S. Steel (X), 2.9% in Talen Energy (TLN), and 2.2% in Allegheny Technologies (ATI).
Now let's discuss JOY's dividends.