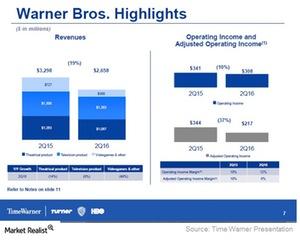 Why Warner Bros. Believes Franchises Are the Way Forward
By Shirley Pelts

Sep. 2 2016, Updated 7:04 a.m. ET
The Warner Bros. programming strategy
In fiscal 2016–2020, Time Warner (TWX) expects to release about 17 movies from its DC, Lego, and World of Harry Potter franchises. The parent company also stated during its fiscal 2Q16 earnings call that it believes that a franchise-focused strategy is the best way forward.
Time Warner's spokesperson further stated the following: "I think that we're going to—we are one of the few scale players on the film side, but even more importantly, we're one of the studios, one of the couple of studios that have the big intellectual property that allows us to be able to anchor a slate like that. So if you think about consolidation the way we think about it, I don't think you would need to see consolidation from players that don't have intellectual property merging with other players that don't have intellectual property for scale, per se. What you really need are the big franchises that are going to be able to drive the economics which is what we're seeing and kind of what our strategy is based on."
Article continues below advertisement
At a Deutsche Bank (DB) investor conference earlier this year, the company also stated that a core part of the Warner Bros. strategy is to leverage its intellectual property and monetize it effectively. The company is thus targeting 450 hours of television programming from Warner Bros. this year for Turner's Cartoon Network and Boomerang.
Time Warner believes that much of its television programming that centers on franchises can result in increased sales for its Consumer Products business and video game sales.
Warner Bros. in fiscal 2Q16
Time Warner's (TWX) Warner Bros. had revenues of $2.7 billion in fiscal 2Q16, which represents a decline of 19% year-over-year. Revenues were pulled down by declining home entertainment, television licensing, and video game revenues. Warner Bros. had an operating income of $308 million in fiscal 2Q16, which represents a decline of 10% over fiscal 2Q15.
Now let's investigate Time Warner's deal with Netflix.