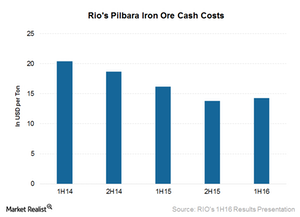 What Variables Impacted Rio's Iron Ore Earnings in 1H16?
By Anuradha Garg

Updated
Variables impacting iron ore profitability
Iron ore miners are responding to the current volatile seaborne price environment by either increasing volumes, reducing costs, or both.
Like other major miners, Rio Tinto (RIO) is making efforts to improve both of these variables. Iron ore costs and realized prices are key to determining RIO's iron ore segment's profitability, which ultimately affects its stock price and relative performance.
Article continues below advertisement
Lower realized prices
About 21% of RIO's sales in 1H16 were priced with reference to the prior quarter's average index lagged by one month. The remainder of prices were either spot rates or the current quarter's or month's average.
RIO made 61% sales on a cost-and-freight (or CFR) basis and 39% of sales on a free-on-board (or FOB) basis.
The company received average pricing per dry ton of $48.4 in 1H16 compared to $59.1 per ton in 1H15. Lower realized iron ore prices, in line with the lower Platts 62% index, reduced RIO's iron ore segment's earnings by $357 million year-over-year.
Cost improvements
The loss of earnings, however, was offset to an extent by higher volumes, cost savings, the weaker Australian dollar, and lower energy costs (USO).
The Pilbara unit's cash costs came in at $14.3 per ton in 1H16, a fall of 12% year-over-year. This fall in costs helped Pilbara to deliver an FOB EBITDA (earnings before interest, tax, depreciation, and amortization) margin of 58% in 1H16 compared to 61% in 1H15.
Rio expects Pilbara iron ore shipments to be around 330 million tons (on a 100% basis) in 2016, subject to weather conditions.
Rio's management believes that despite resilient demand from China in the last few months (as more tons are expected to hit the Market in the near to medium-term), they'll continue to tread with caution.
In a commoditized space such as iron ore mining, miners can't control prices. Controlling costs in this scenario could be a key differentiator between companies and could lead to stock price performance divergence. RIO is the lowest-cost operator right now, but BHP Billiton (BHP) and Vale (VALE) are catching up fast.
BHP Billiton, Rio Tinto, and Vale form 32.1% of the iShares MSCI Global Metals & Mining Producers ETF (PICK). The SPDR S&P Metals and Mining ETF (XME) also provides exposure to this space.
In the next part, we'll look at RIO's performance in the aluminum segment and its management's outlook.