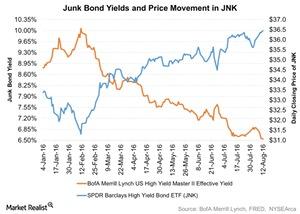 US Stock Indexes Almost Flat after Release of FOMC Minutes
US stock indexes almost flat last week
The three US equity stock indexes we review in this weekly series were mostly flat from August 11–18, 2016. This came after the minutes from the July 26–27, 2016, FOMC (Federal Open Market Committee) meeting indicated that a rate hike might come as soon as September 2016 but that economic data would have to support it.
On August 16, hawkish comments on a rate hike from William Dudley, president of the New York Federal Reserve Bank, added more selling pressure to US stocks. Dudley said a rate hike is coming soon, and the lift-off may happen as soon as September if economic data support it.
Banking stocks such as Citigroup (C), Wells Fargo (WFC), and Bank of America (BAC), which typically benefit from interest rate increases, rose after Dudley's remarks.
From August 11–18, the S&P 500 index, tracked by the Vanguard 500 Index Fund Investor Class (VFINX), and the SPDR S&P 500 ETF (SPY) bothrose 0.1%. The Dow Jones Industrial Average (or DJIA) fell 0.1%, and the NASDAQ rose 0.2%.
Article continues below advertisement
BlackRock warns of 'bumpy road' in US stock market in the coming months
Richard Turnill, global chief investment strategist for BlackRock, said, "Realized equity volatility today is at the lowest level seen at this time in any presidential election year since the 1940s." He added, "As unique and notable as this election may be, equity markets tend to react more to macroeconomic factors and corporate earnings than they do to elections. In fact, we expect earnings will be a key determinant of how the US stock market ends in 2016."
The three-month Volatility Index (or VIX), which measures the implied volatility of options on the S&P 500 stock market index, is approaching record lows. Implied volatility should rise when there's a potentially disruptive political event such as the US presidential elections in November. That's because financial markets are prone to plunge or rally right after the event.
Article continues below advertisement
High-grade bond market
Treasury yields and investment-grade bond yields fell for the week ended August 12, 2016. This came after tepid advance retail sales and Producer Price Index (or PPI) data painted a dim picture of US economic growth and lowered the prospects of a rate hike in 2016.
You can read more on this at Treasuries Rally amid Lower Prospects of a Rate Hike in 2016. You can also read why high-grade corporate bond yields fell last week in our series Why Are Investors Flocking to US High-Grade Bonds?
Junk bonds
Junk bond yields fell 15 basis points week-over-week and ended at 6.5% on August 12, 2016. Due to a fall in yields, the prices of mutual funds and ETFs investing in junk bonds rose that week. These funds include the American Funds American High-Income Trust – Class A (AHITX), the T. Rowe Price High Yield Fund – Advisor Class (PAHIX), the SPDR Barclays Capital High Yield Bond ETF (JNK), and the iShares iBoxx $ High Yield Corporate Bond Fund (HYG).
In the rest of this series, we'll look at developments in the primary and secondary markets for high-yield debt and leveraged loans.