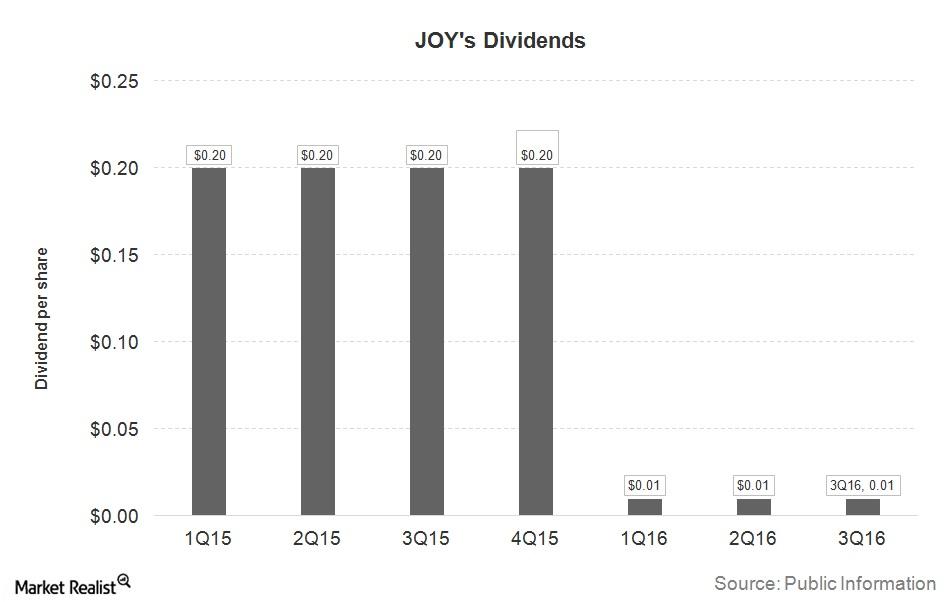 Understanding Joy Global's Dividend Policy in Fiscal 3Q16
JOY's dividend
In the current volatile commodities environment, Joy Global (JOY) has been struggling to grow its revenue and has thus resorted to cutting its dividend. During the past two years, JOY has repurchased 9.8 million shares worth $533 million. However, the company did not repurchase any shares during the past three fiscal quarters (fiscals 1Q16, 2Q16, and 3Q16).
Article continues below advertisement
JOY's fiscal 3Q16 dividend
In fiscal 2015, JOY paid around $78 million in dividends to shareholders, but on December 16, 2015, JOY announced a cut in its quarterly dividend. The company reduced the dividend to $0.01 per share in fiscal 1Q16 from $0.20 per share in fiscal 4Q15—a step taken due to sharp unexpected losses in fiscal 4Q15.
If the dividend had not been cut, the company's annual cash outlay in 2016 would have been $75 million. So on July 6, 2016, JOY paid a fiscal 3Q16 dividend of $0.01 per share (same as in fiscal 1Q16 and fiscal 2Q16).
Peer dividends and ETFs
In 3Q16, Caterpillar (CAT), Terex (TEX) and Illinois Tool Works (ITW) are expected to pay dividends of $0.77, $0.70, and $0.55 per share, respectively.
JOY is part of the Guggenheim S&P MidCap 400 Pure Value Fund ETF (RFV), accounting for 3.3% of the fund's total holdings. Investors in this ETF could benefit if JOY exceeds its fiscal 3Q16 revenue and earnings expectations. Notably, U.S. Steel (X) and Talent Energy (TLN) are among the top ten holdings of RFV, accounting for 2.9% and 2.6%, respectively, of the ETF. JOY is also part of S&P 500 Index (SPY).
In the next part, we'll compare Joy Global's valuations to those of other mining equipment companies.