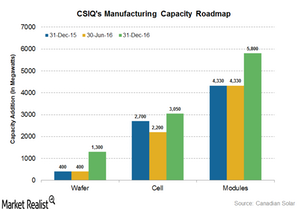 Understanding Canadian Solar's Revised Expansion Plan and Financial Position
By Sheldon Krieger

Updated
Revised expansion plan
According to Canadian Solar's (CSIQ) latest company filings, the company revised its solar (TAN) module capacity expansion plan based on its latest market assessment. As a part of its revised 2016 expansion plan, the company now expects its internal module capacity to reach 5,800 MW (megawatts) by the end of fiscal 2016, as compared to its previous plan of 6,430 MW.
Also, the company revised its cell manufacturing capacity from 3,900 MW to 3,050 MW in its latest filings. This includes 850 MW cell manufacturing plant located in Southeast Asia, which the company expects to commission in September 2016. However, CSIQ revised its expected wafer manufacturing capacity upward to 1,300 MW, as compared to 1,000 MW at the end of 1Q16.
Out of the expected 1,300-MW wafer capacity, the company expects to produce at least 900 MW using a new diamond wire saw technology. According to company filings, the usage of diamond wire saw technology is expected to reduce the company's manufacturing costs through the reduction of silicon usage.
Article continues below advertisement
Canadian Solar's financial condition
Canadian Solar (CSIQ) had about $1.0 billion in cash, cash equivalents, and restricted cash as of June 30, 2016, as compared to $1.0 billion as of March 31, 2016. The company had $1.37 billion in the form of short-term debt on its books at the end of 2Q16, as compared to nearly $1.35 billion at the end of 1Q16.
CSIQ's long-term debt at the end of 2Q16 was $828.5 million, as compared to $818.5 million at the end of 1Q16. The majority of its long-term debt will be due for repayment in the next two years.
Available options to raise capital
Canadian Solar believes that the current capital market situation is not favorable enough for a YieldCo initial public offering. As a result, the company terminated its YieldCo launch and wrote-off the related expenses. However, it plans to finance new projects through alternate options such as asset-backed securitization schemes.
The company expects to recycle capital and reduce debt through the sale of its power plant assets in 2H16, and CSIQ is expected to recognize revenue from the sale of two of its operating solar power projects in China in 4Q16. The company expects to monetize its Japanese assets through a launch of a Japanese REIT (real estate investment trust) IPO in next 12 months.
As of June 30, 2016, Canadian Solar was relatively more leveraged than its peers First Solar (FSLR) and SunPower (SPWR), but it's less leveraged than SunEdison (SUNEQ).
Next, we'll look at Canadian Solar's project pipeline.