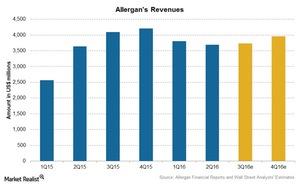 Understanding Allergan's Revenue Stream in 2Q16
By Mike Benson

Updated
Allergan's 2Q16 revenues
As discussed earlier, Allergan (AGN) reported revenues of $3.7 billion in 2Q16. This converts to over 1.5% revenue growth in 2Q16 as compared to $3.6 billion in 2Q15. The loss of exclusivity of Namenda IR impacted the company's growth in 2Q16.
The above graph shows the revenues of Allergan in each quarter. The majority of Allergan's revenues come from US sales. The company has reclassified its operations into three business segments including US general medicine, US specialized therapeutics, and international business. As discussed earlier, the company completed the divestiture of its global generics business and announced the divestiture of its Anda distribution business to Teva Pharmaceuticals on August 2, 2016. Both these businesses have been reported as discontinued operations since the company's 2Q16 earnings.
Article continues below advertisement
Revenue performance
Allergan's business is now classified into three segments. The changes on a year-over-year basis are as follows:
The US specialized therapeutics segment includes eye care, medical aesthetics, medical dermatology, and the neuroscience and urology franchise. The revenues for US specialized therapeutics rose 11% to $1.5 billion during 2Q16 as compared to $1.4 billion during 2Q15. This growth was driven by a 15% increase in revenues for Medical Aesthetics products, which grew due to the strong performance of Botox, fillers, new product Kybella, and a 10% increase in revenues for eyecare products due to the strong uptake of Ozurdex and Restasis.
The US General Medicine segment includes the central nervous system, gastroenterology, women's health, anti-infectives, and the established brands franchise. The revenues for the US General Medicine segment fell by 10% to $1.5 billion during 2Q16 as compared to $1.6 billion in 2Q15. The decline in revenues was due to lower sales of Namenda IR, partially offset by increased sales of Linzess, Lo Loestrin, and new products Viberzi and Vraylar.
The revenues for the international segment rose 6% to $757 million for 2Q16 as compared to $717 million for 2Q15. The segment reported operational growth of 10%, offset by a 4% negative impact of foreign exchange. The growth was driven by an increase in sales in the Europe and APAC regions, a result of double-digit growth in sales of Botox, fillers, and eyecare.
Investors can consider ETFs like the Fidelity MSCI Healthcare ETF (FHLC), which holds ~2.3% of its total assets in Allergan, in order to divest the risk. Apart from Allergan, FHLC also holds 3.6% of its total assets in Amgen (AMGN), 5.3% in Merck & Co. (MRK), and 3.0% in Celgene (CELG).