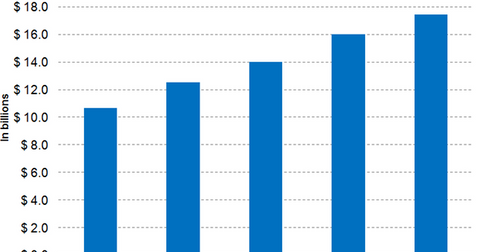 How Humira-Related Uncertainty Has Affected AbbVie's Valuations
By Margaret Patrick

Updated
Humira's growth prospects
Wall Street analysts have projected that in 2016, Humira's revenue will rise by ~14% YoY, from $14.0 billion in 2015 to $16.0 billion in 2016. The drug is further expected to earn revenue of $17.4 billion in 2017, a YoY rise of around 9.1%.
Analysts have been less optimistic than AbbVie, projecting lower growth percentages for Humira's sales for future years.
Article continues below advertisement
Uncertainty related to the Humira franchise
With Humira's composition of matter patent expected to expire on December 31, 2016, investors have been concerned about future growth prospects for the drug. In 2015, Humira's sales accounted for 61.3% of AbbVie's total revenue.
This overdependence on a single drug has proven detrimental to AbbVie's valuation multiples as the company's share price continues to suffer due to uncertainty related to Humira's future prospects. AbbVie, however, is confident that it has a strong patent estate related to Humira, which will safeguard the drug from generic erosion.
AbbVie believes that Humira will continue to pose strong competition to other immunology drugs such as Johnson & Johnson's (JNJ) Remicade (through its subsidiary Janssen Pharmaceuticals), Roche's (RHHBY) Actemra (through its subsidiary Genentech), and Amgen's (AMGN) Enbrel. To know more about Humira's patent estate, please refer to Intellectual Property Should Safeguard Humira's Top Spot.
AbbVie believes that after Humira's patent expiry, investigational drugs Risankizumab and ABT-494 will be strong additions to the company's immunology portfolio. This may boost AbbVie's share price as well as the share price of the iShares Russell 1000 Growth ETF (IWF). AbbVie makes up about 1.0% of IWF's holdings.
In the next article, we'll study 2016 growth prospects for AbbVie's oncology drug Imbruvica.