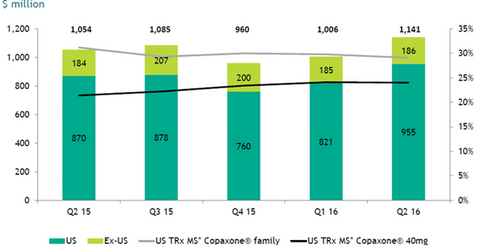 US Patent and Trademark Office Invalidates Two Copaxone 40 Patents
By Margaret Patrick

Updated
Copaxone 40 mg litigations
On August 24, 2016, Mylan (MYL) announced that the PTO (US Patent and Trademark Office) invalidated patents 8,232,250 and 8,399,413, which are related to Teva Pharmaceutical Industries' (TEVA) 40 mg/ml (milligram/milliliter) version of Copaxone. The company expects to receive a decision related to the third patent of Copaxone 40 mg/ml, 8,969,302, before September 1, 2016.
While the PTO has already declared Mylan's application related to a fourth patent, 9,155,776, for Copaxone 40mg/ml to be ineligible, Mylan is confident that the PTO's favorable new decision will help reverse its previous decision. Mylan has thus decided to continue challenging patent 9,155,776. (For more about the litigations Copaxone 40 mg/ml faces, please refer to "Litigation Has Teva Pharmaceutical's Copaxone 40 mg All Tied Up.")
Article continues below advertisement
Attractive branded product
Despite tough competition from Biogen's (BIIB) MS (multiple sclerosis) portfolio, Copaxone 40 mg/ml has managed to continue to be the leading MS drug in the US and currently holds about 24.1% of the total market share. The 40 mg/ml dosage accounts for 83% of Copaxone franchise revenues, which mainly come from the US market, which indicates the scale of market opportunity available for Mylan and other generic players, in case all five orange book patents related to Copaxone 40mg/ml are proved invalid.
Notably, there is currently no generic competition for Copaxone 40 mg/ml, and Novartis' (NVS) Glatopa (through its Sandoz subsidiary) is the only approved generic version of Copaxone 20 mg/ml. Limited existing competition has increased the attractiveness of the Copaxone franchise for other generic players.
But this most recent ruling may force Teva to change its Copaxone franchise strategy because the drug may not remain secure from generic competition until 2018, as the company previously projected. This would negatively affect Teva's share prices as well as those of the Market Vectors Pharmaceutical ETF (PPH). Notably, Teva Pharmaceutical Industries makes up about 4.4% of PPH's total portfolio holdings.
In the next part, we'll explore how this PTO decision is expected to prove beneficial for Mylan and other generic players.