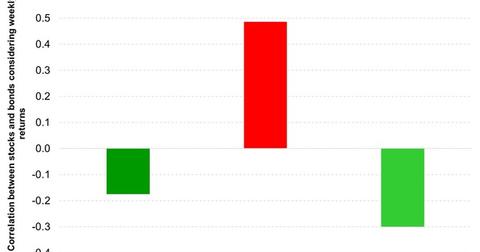 How to Tweak Your Porfolio given High Bond Durations
By Russ Koesterich, CFA

Aug. 23 2016, Published 3:11 p.m. ET
Given this dynamic, is there an alternative strategy that allows investors to get their rate exposure in a more appetizing fashion?
Article continues below advertisement
Portfolio tricks
Using BlackRock's Aladdin Portfolio Builder I constructed two portfolios: a "plain vanilla" U.S. 60/40 portfolio and an "alternative" portfolio. The first portfolio consists of a 60% weight to the S&P 500 and a 40% weight to the Barclays Aggregate Bond Index. For the second portfolio, I left the bond exposure at 40%, but included a 10% allocation to high yield within that 40%. In order to balance the volatility I adjusted the equity position as well. I reduced the allocation to the S&P 500 from 60% to 40% and introduced two new positions: a 10% allocation to preferred stocks and a 10% allocation to a U.S. minimum volatility slice, as represented by the S&P U.S. Preferred Stock Index and the MSCI USA Minimum Volatility Index, respectively.
Market Realist: How to get your portfolio to eat its duration
The graph above shows the correlation between stocks (IVV) and bonds (AGG) over three time periods. Between 2003 and 2007, when the economic growth was strong, the correlation between stocks and bonds was -0.18. In other words, stocks and bonds moved in opposite directions. After the financial crisis, the assets have had a strong negative correlation, meaning bonds have added diversification benefits.
However, during the 2008–2009 financial crisis, the correlation rose to 0.49. The two assets tended to move in the same direction, beating the purpose of diversification, when it was most needed.
Therefore, some tweaking of the traditional portfolio is required, in order to accentuate the benefits of diversification. In the aforementioned alternative portfolio, yields are increased by the addition of high-yield bonds (HYG), while volatility (VXX) is reduced by adding minimum volatility stocks (USMV). More on the alternative portfolio in the next part.