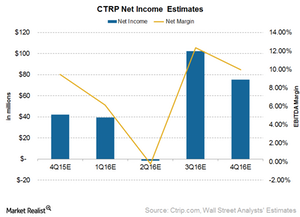 After a Turnaround in 2015, Can Ctrip's Margins Expand Further?
By Ally Schmidt

Updated
Analysts' estimates
For 2Q16, analysts expect Ctrip (CTRP) to report a loss of $1.6 million with a margin of -0.2%. The company's net income is expected to fall by 73% to $102.5 million and 79% to $752.7 million in 3Q16 and 4Q16, respectively.
For 2016, CTRP's net income is expected to fall by 58% to $203 million with a margin of 7%, compared to a margin of 29% in 2015.
Ctrip's margin is expected to rise to 15% in 2017 and 20% in 2018. Its net income is also expected to rise by 184% in 2017 and 74% in 2018, higher than the growth seen in 2016.
Rivals Priceline's (PCLN) and Expedia's (EXPE) margins are expected to rise in 2016, while TripAdvisor's (TRIP) margin is expected to fall in 2016.
Article continues below advertisement
Heavy investments
CTRP is China's leading online travel agency. For this, CTRP has had to spend heavily in building the necessary infrastructure, including manpower and technology.
Ctrip's sales and marketing expenses accounted for 33% of its net revenue and rose by a whopping 114% in 1Q16, compared to a 73% rise in 1Q16.
Industry consolidation to help
China has seen tremendous growth in its online travel industry, and it's expected to continue growing in 2016. This has meant intense price wars as everyone's tried to get a bigger piece of the pie.
Ctrip's response has been to consolidate the Chinese OTA (online travel agency) industry by acquiring stakes in its Chinese OTA rivals. It's expected that this will help to stabilize rates, as is already visible in high-end hotels. The company has also reduced its distribution of customer coupons, which will further aid in improving its margins.
Outlook
CTRP's spending seems to be easing off. Also, industry consolidation will help to keep pricing wars at bay. Both of these factors are good news for investors, as they mean that CTRP could see a solid margin expansion in the coming year. This improvement was visible in Ctrip's improved gross margin of 72.8% in 1Q16 compared to 69.5% in 1Q15.
CTRP forms 1.5% of the holdings of the iShares MSCI China ETF (MCHI).