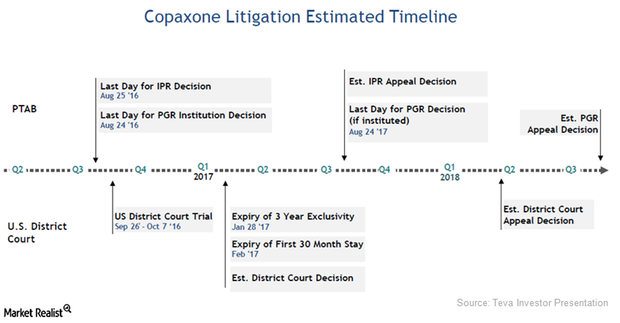 Litigation Has Teva Pharmaceutical's Copaxone 40 mg All Tied Up
By Margaret Patrick

Aug. 24 2016, Updated 11:04 a.m. ET
Multiple litigations
Teva Pharmaceutical (TEVA) expects to safeguard its Copaxone 40 mg (milligram) franchise from significant generic erosion by the middle of 2018. The company is currently facing litigation in which competitors are challenging the orange book patents that Teva holds for Copaxone 40 mg.
Article continues below advertisement
U.S. District Court of Delaware trial
The trial for the first four patents of Copaxone 40 mg is expected to begin on September 26, 2016. Teva expects it to conclude in 1Q17.
Teva Pharmaceutical is confident that it will get a fair judgment. The trial judge is Gregory Sleet, who has significant experience in matters related to pharmaceutical patents. The judge will begin the case by assuming that the patents are valid, which could prove beneficial for Teva, the defendant. It will be the plaintiff's responsibility to produce evidence and prove the invalidity of the patents.
Peers such as AbbVie (ABBV) and Amgen (AMGN) are also involved in litigations related to the launch of generic Humira. These litigations result in additional costs for the companies.
Cases with the United States Patent and Trademark Office
Under the America Invents Act, Mylan (MYL) and Amneal Pharmaceuticals have challenged Teva Pharmaceutical's three orange book patents for Copaxone 40 mg (milligram) through an inter partes review. The hearing was conducted before the Patent Trial and Appeal Board in May 2016, and the result is expected by August 25, 2016.
According to the United States Patent and Trademark Office, "Inter partes review is a trial proceeding conducted at the Board to review the patentability of one or more claims in a patent only on a ground that could be raised under §§ 102 or 103, and only on the basis of prior art consisting of patents or printed publications."
Litigation is expected to continue until the first half of 2018. So Teva Pharmaceutical may not see a significant share price decline due to the lack of generic competition for Copaxone 40 mg. This may also help secure the share price of the First Trust Value Line Dividend ETF (FVD). Teva Pharmaceutical makes up about 0.52% of FVD's total portfolio holdings.
In the next and final part of our series, we'll explore some key milestones Teva Pharmaceutical expects in the second half of 2016.