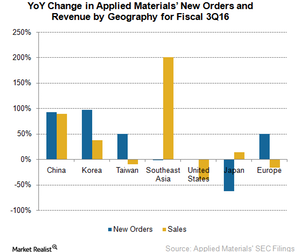 These Countries Are Applied Materials' Key Drivers of Future Growth
By Puja Tayal

Updated
Revenue by geography
Geographically, Applied Materials' (AMAT) manufacturing is shifting away from the US and Europe toward Asia, and this shift has become visible in AMAT's revenues and order book.
In fiscal 3Q16, Taiwan and China (MCHI) accounted for 57% of AMAT's orders and 46% of its sales. Korea (EWY) is AMAT's third-biggest market, accounting for 19% of new orders and 17% of sales in fiscal 3Q16. By contrast, sales in the US and Europe fell as many semiconductor companies restructured and shut down fabrication facilities, or fabs.
Article continues below advertisement
Taiwan
Taiwan is home to some of the biggest foundries, including TSMC (TSM) and United Microelectronics. TSMC is transitioning to the 10 nm (nanometer) node and is scheduled to bring it to production in 2017, thus driving demand for AMAT's foundry equipment in Taiwan. Moreover, UMC has ordered ~$62.7 million in machinery from AMAT in July 2016.
China
AMAT has been present in China for 32 years, and the company is seeing an increasing demand in the country. China has started an initiative to become self-sufficient in semiconductor manufacturing and is plugging huge sums of money into the industry. It has meanwhile invited multinational companies to build their fabs in China.
Specifically, TSMC and Intel (INTC) are building fabs in China, while Qualcomm (QCOM) and Advanced Micro Devices (AMD) have entered into partnerships with Chinese foundries to provide technology support for building server chips. All this is driving up AMAT's sales and orders in China.
Article continues below advertisement
Other markets
In fiscal 3Q16, AMAT secured 24% of new orders and earned 37% of its total revenues from the US, Europe, Japan, and Southeast Asia. While US and Japanese markets remain subdued, there is renewed optimism in Europe, with new orders increasing by 49% YoY (year-over-year) in fiscal 3Q16.
Demand in Southeast Asia is slowly evolving. Although growth is high in this market, the market still accounts for just 4% of AMAT's new orders and only 11% of sales.
Next, we'll look at AMAT's sales and orders according to end markets.