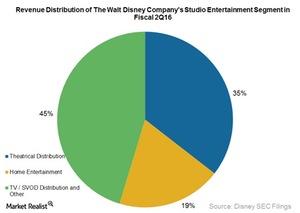 Disney Keeps Benefiting from Box Office Hits from Pixar, Marvel
By Shirley Pelts

Updated
Disney's Studio Entertainment
Last month, The Walt Disney Company (DIS) announced that Walt Disney Studios had passed the $2 billion milestone at the US box office in 2016. The company's biggest success this year has been Pixar's Finding Dory, which has already made more than $445 million at the US box office. Finding Dory has pulled in $724 million globally.
Disney has released 27 movies to date under the Pixar, Marvel, Disney Animation, and Lucasfilm brands. Each of these movies has earned an average of around $770 million at the global box office.
Article continues below advertisement
Disney acquired Marvel in 2009 and Pixar in 2006. The company has managed the profitability and quality of these two assets following their acquisitions. In fiscal 2013, Disney acquired Lucasfilm for $4.1 billion—another win for the company given the success of Star Wars. Disney's peer Comcast (CMCSA) announced its acquisition of DreamWorks Animation (DWA) earlier this year.
Disney has also announced a new Indiana Jones movie, which is set to be released in 2019.
At a Deutsche Bank (DB) investor conference in March 2016, Disney stated that it considered ROIC (return on invested capital) to be an important criterion for its movie business.
Disney saw its ROIC, excluding returns from the Star Wars movie, rise from 20% in 2014 to 30% in 2015. This indicated that Disney outperformed its competitors, including Comcast's Universal Pictures, in the studio entertainment business. The movie business usually sees ROIC of 10%.
Studio Entertainment segment in fiscal 2Q16
Disney's Studio Entertainment segment had total revenue of $2.1 billion in fiscal 2Q16. This was a rise of 22% over fiscal 2Q15.
As we can see in the graph above, theatrical distribution and television or SVOD (subscription video on demand) distribution were the biggest contributors to this segment.