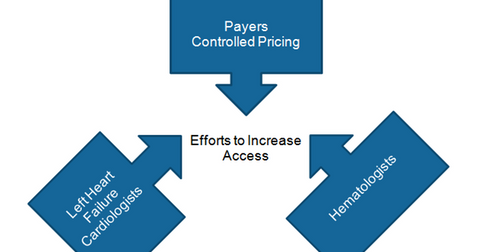 Physician and Payer Relationships to Increase UTHR's Drug Access
By Margaret Patrick

Updated
Physician and payer relationships
In addition to focusing on developing its drug portfolio, United Therapeutics (UTHR) has been actively involved in strengthening its relationships with health insurers and physicians to ensure drug access for the patient community.
Rising access to United Therapeutics' drugs may boost its profitability as well as its share price. It may also have a positive impact on the share price of the First Trust Health Care AlphaDEX ETF (FXH). United Therapeutics makes up about 2.5% of FXH's total portfolio holdings.
Article continues below advertisement
Payer relationships
Since United Therapeutics earns the majority of its revenue from the Medicare Part B program and commercial health insurers, it has experienced limited impacts from strict generic substitutions and other pricing policies of the Medicare Part D program.
Additionally, the company has forged strong relationships with health insurers by implementing a controlled pricing strategy. The company hasn't changed the price of its leading drug, Remodulin, for the past five years. The company has also increased Tyvaso's price by around 5% annually. This has resulted in increased acceptance of the company's drugs, which are generally approved for reimbursement without hassles.
Strong payer relationships have been crucial to enabling United Therapeutics to pose strong competition to other pulmonary arterial hypertension (or PAH) players such as Gilead Sciences (GILD), Teva Pharmaceutical (TEVA), and GlaxoSmithKline (GSK).
Left heart failure cardiologists
Currently, United Therapeutics has been marketing its drugs to around 3,000 physicians in the United States. However, its efforts are concentrated more on the 1,000 physicians who are experts in the field of pulmonary hypertension.
As United Therapeutics continues to explore drugs for Group 2 PAH, the company may have to change its marketing strategy and begin focusing on left heart failure cardiologists. These cardiologists currently focus on heart failure and do not prescribe any medication for pulmonary hypertension. This is because there's no approved drug for Group 2 PAH available in the market. For Group 3 PAH, United Therapeutics will have to market the drugs to pulmonologists.
United Therapeutics may benefit from a first-mover advantage in these segments, in case their drugs are approved by the regulatory agencies.
Hematologists
For Group 5 PAH, United Therapeutics needs to market its drugs to hematologists. Since there's no approved drug for Group 5 PAH, hematologists only focus on sickle cell disease and not on pulmonary hypertension. United Therapeutics' foray into Groups 2, 3, 4, and 5 PAH therapy is thus expected to also lead to a rise in the company's footprint in the physician community.
In the next article, we'll explore analysts' recommendations for United Therapeutics and its peers in 2016.