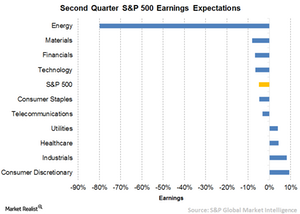 Are Stocks Really Cheap Relative to Bonds?
By Russ Koesterich, CFA

Aug. 9 2016, Published 3:49 p.m. ET
Don't overemphasize stocks' relative value to bonds
Bulls will also correctly point to the fact that stocks are cheap relative to bonds. While true, as I have argued in the past, in this case relative value may not support future returns. A large part of the reason bonds are expensive is because of extraordinary monetary policy, both here and abroad. To the extent policy reflects a dour outlook for both real and nominal global growth, corporate earnings are likely to remain in a rut, suggesting a lower not higher multiple. Additionally, while stocks look cheap relative to bonds, historically valuation multiples, rather than the equity risk premium, have been the better predictor of future stock returns.
Article continues below advertisement
Market Realist – Relative value may not support future returns
According to Bank of America Merrill Lynch, the current S&P 500 forward earnings yield is 6% while the ten-year Treasury yield is near 1.6%, a wide gap of 4.4%. The Fed Model argues that the S&P 500 forward earnings yield could normalize over time and fall close to the ten-year Treasury yield, meaning a substantial upside for the market (IWF) (IWD) from current levels.
However, this argument has to be taken with a grain of salt because this model has shown some divergence in the past eight years, meaning a declining correlation between the two. Additionally, the pressure on profit margins and global economic uncertainty could lead to some reversal in the market.
Expensive bonds
Weaker-than-expected global growth, monetary stimulus from central banks around the world, and negative interest rates in many developed countries have led to higher demand for government bonds. The surging demand has caused yields on bonds worth around $11 trillion to dip below zero.
Subdued corporate earnings
Subdued corporate earnings is another factor that could thwart the further rise of the S&P 500. According to Thomson Reuters, earnings of companies in the S&P 500 are expected to fall 2.6% year-over-year in the second quarter while revenues are forecasted to dip by 0.4%. According to the S&P, energy companies are likely to see an earnings drop of a whopping 80%, while financial (IYF) companies' earnings are likely to fall by 6.8%, and telecommunications companies are likely to fall 3.2%.
In all likelihood, the market's future movement will be driven by valuation multiples rather than its relative performance with bonds.