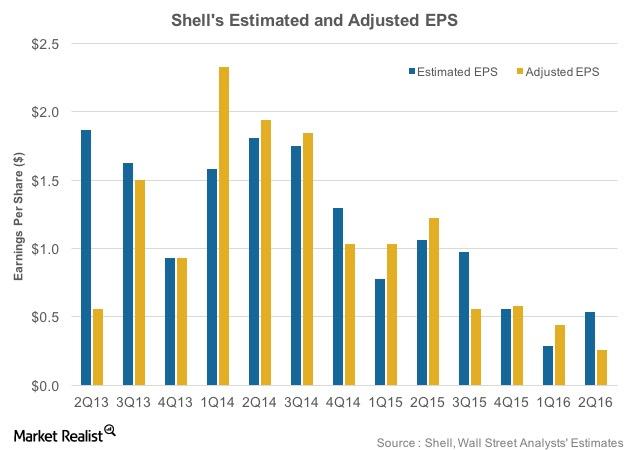 Shell's 2Q Earnings Decline Could Be the Worst of Its Peer Group
Shell's 2Q16 performance
Royal Dutch Shell (RDS.A) released its 2Q16 results on July 28, 2016. In this series, we'll take an overall view of the 2Q16 earnings. First, we'll look at Shell's 2Q16 performance versus analyst estimates.
In 2Q16, Royal Dutch Shell's (RDS.A) revenues surpassed Wall Street analyst estimates by 1.3%. In the quarter, Shell's earnings per American Depository Share (or EPS) stood at $0.30. However, when adjusted to CCS EII (current cost of supplies excluding identified items), its EPS stood at $0.26 compared to its estimated EPS of $0.53, exceeding the analysts' estimates.
Article continues below advertisement
Shell's 2Q16 earnings review
Shell's 2Q16 earnings fell by 71% over 2Q15 to $1,175 million in 2Q16. The earnings are then adjusted on a CCS basis, excluding identified items. According to Shell, "CCS earnings exclude the effect of changes in the oil price on inventory carrying amounts." Identified items include divestment gains and losses, impairments, redundancy, and restructuring costs.
On a CCS basis, Shell posted an adjusted profit of $1,045 million in 2Q16, a fall of 72% over 2Q15. This was due to the upstream segment, which reported a loss in 2Q16. Plus, Shell's integrated gas and downstream segments saw their earnings fall in 2Q16 over 2Q15. We'll discuss segment-wise performance in the next part.
Shell's peers ExxonMobil (XOM) and Chevron (CVX) are expected to post 21% and 24% lower adjusted EPS in 2Q16 compared to 2Q15, respectively. The PowerShares Dynamic Large Cap Value ETF (PWV) has ~5% exposure to energy sector stocks.