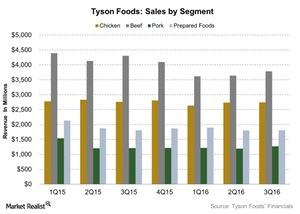 Which Segment Drove Tyson Foods' Fiscal 3Q16 Revenue?
Segmental performance in fiscal 3Q16
Tyson Foods (TSN) operates through four main segments: Chicken, Beef, Pork, and Prepared Foods. Together, the Beef and Chicken segments contributed 68% to total net sales in fiscal 3Q16, and the Chicken segment contributed the most to total operating profit.
Article continues below advertisement
Chicken, Beef, and Pork segments
In the Chicken segment, sales dropped in fiscal 3Q16. The segment reported $2.7 billion in net sales. There was a slight increase in average sales price, led by sales mix changes. The operating profit for this segment increased to $380 million due to better operational execution and lower feed ingredient costs. Feed costs fell $50 million in fiscal 3Q16.
In the Beef segment, livestock prices fell because of higher domestic availability of beef supplies. This resulted in a drop in average sales price. The segment reported net sales of $3.7 billion in fiscal 3Q16. An increase in live cattle processed due to higher fed cattle supplies drove the increase in sales volume. Favorable market conditions related to an increase in cattle supply, which drove down fed cattle costs, resulted in the rise in operating profit to $91 million.
In the Pork segment, reduced inventory levels and mix changes resulted in a sales volume decrease in fiscal 3Q16 despite increased production.
Sales volume rose 1.5% in fiscal 3Q16 as a result of improved demand for pork products. This result excludes the divestiture effect. Net sales came in at $1.2 billion. Demand for pork products outpaced the increase in live hog supplies, which ultimately resulted in a higher average sales price. Better plant utilization and higher volumes led to a higher operating profit of $122 million.
Prepared Foods segment
Strong demand for this segment's products led to the increase in sales volume for the third quarter. A drop in input prices reduced the average sales price. However, this was partially offset by product mix changes. Strong demand for Prepared Foods products resulted in higher operating income in the third quarter. This segment has also benefited from $116 million in synergies. The amount that was realized in fiscal 3Q16 was $37 million.
The company's peers in the industry include Campbell Soup Company (CPB), ConAgra Foods (CAG), and Mead Johnson Nutrition Company (MJN). They reported operating margins of 14.3%, ~-1.0%, and 22.7%, respectively, for their last quarters.
The Guggenheim S&P 500 Equal Weight Consumer Staples ETF (RHS) and the iShares Morningstar Mid-Cap ETF (JKG) invest 3.3% and 1.2% of their respective portfolios in Tyson Foods' stock, as of August 9.
In the next article in this series, we'll look at Tyson Foods' updated guidance for fiscal 2016 and its outlook for 2017.