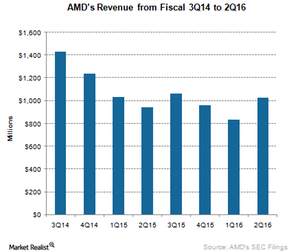 How Seasonal Demand Influences Advanced Micro Devices' Revenue
By Puja Tayal

Updated
AMD fights back competition
In the previous part of this series, we saw that times are turning for Advanced Micro Devices (AMD). It's preparing to push back Intel (INTC) and Nvidia (NVDA) with its new Zen CPUs (central processing units) and Polaris GPUs (graphics processing units). With the new more powerful GPUs, the game console market is also heating up.
AMD is also moving quickly to tap the VR (virtual reality) revolution by launching VR-ready GPUs. All this combined with seasonal demand has positioned AMD for a strong fiscal 3Q16.
Article continues below advertisement
How will AMD's revenue look in fiscal 3Q16?
The third quarter is a seasonally strong quarter for AMD. Game console makers such as Sony (SNE) and Microsoft (MSFT) start building up inventory for the holiday season. As you can see in the above graph, even with declining revenue, AMD posted a sequential rise in third quarters. In fiscal 3Q16, the company not only expects to report sequential growth but also YoY (year-over-year) growth.
For fiscal 3Q16, AMD expects revenues to grow 18% sequentially and 14% YoY to around $1.2 billion. This growth is expected to be driven by strong seasonal demand from game console customers and mainstream customers.
AMD breaks free of declining revenues
Looking at the above graph, we see that apart from seasonal growth in third quarters, a surprise turnaround was seen in fiscal 2Q16. During that quarter, AMD's revenue grew 9% YoY to $1.0 billion, the first YoY revenue growth in seven quarters. This was greater than the company's own guidance of $955 million and analysts' consensus estimate of $951.3 million. 
Revenue growth was driven by strong sales in the semi-custom segment and the computing and graphics segment. AMD expects this strength to continue in fiscal 3Q16 as well and be supported by demand for its newly launched Radeon RX 480 and three new design wins in the semi-custom space.
Strong revenue pushed AMD back to non-GAAP (generally accepted accounting principles) operating profits. But the company reported a net loss due to the interest paid on its huge $2 billion debt. However, the company expects to report net income in fiscal 3Q16. We'll look at this more closely in the next part of the series.